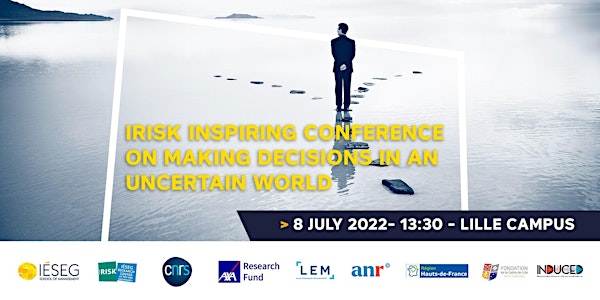 IESEG Inspiring Conference : Decision-making under uncertainty in practice
Panel discussion on the importance of considering uncertainty in common (in English).
When and where
Location
IÉSEG School of Management - Université Catholique de Lille 3 Rue de la Digue 59000 Lille France
About this event
**Registration free but compulsory**
[IÉSEG-iRisk INSPIRING CONFERENCE] "MAKING DECISIONS IN AN UNCERTAIN WORLD"
Uncertainty is pervasive and plays a major role in decision-making. Whether agents pursuing individual goals, or policymakers pursuing social objectives, decision-makers rarely know what the relevant states of the world are.
To celebrate the launch of iRisk, its new research center, IÉSEG School of Management will organize an inspiring conference on the theme: "Decision-making under uncertainty in practice".
The inspiring conference will be organized as a high-level panel discussion with four leading experts from the industry, policymaking, and academic community and will promote dialogs between theory and practice.
GENERAL SCHEDULE
12.30-13.30: Lunch [optional, room A022]
13.30-13.35: Welcome address: Inspring Conferences [room B050]
13.35-14.45: Panel discussion - "Making decisions in an uncertain world"
14.35-14.45: Open discussion
Panelists:
▫ Mathias DEWATRIPONT: Professor at the Université libre de Bruxelles, former Executive Director of the National Bank of Belgium
▫ Christian GOLLIER:  Professor at the Toulouse School of Economics, member of the Commission of Experts on the Great Economic Challenges set up by President Macron
▫ Gilles MOËC: AXA Group Chief Economist and AXA IM Head of Research
▫ Vicky POLLARD: Acting head of unit "Foresight, Economic Analysis & Modelling" at the DG Climate Action, European Commission
The conference will be given in English.
>> MORE INFO