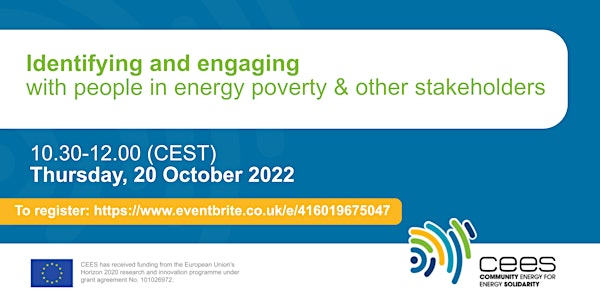 Identifying and engaging with people in energy poverty & other stakeholders
Best practices for identifying and engaging with people in energy poverty.
About this event
📅 CLEAR YOUR CALENDARS! On Thursday, 20 October, join us for a full day of webinars on Community Energy for Energy Solidarity (CEES): A timely approach for a more just future.
With a pan-European energy crisis in full swing and negotiations for the EU's 'just, clean energy transition' underway, the role of energy communities as a mechanism to enable citizen participation in energy systems is gaining traction.
CEES is specifically interested in how energy communities can effectively tackle energy poverty. To this end, CEES partners are exchanging practices related to key topics such as: how to identify and engage with people in energy poverty and wider stakeholder groups; implementing hard and soft measures at the household level; financial and regulatory frameworks; and how to evaluate the effectiveness actions taken. 
_______________________________________________________
Households in energy poverty are notoriously difficult to identify -- let alone engage with. But the CEES project is working with energy communities (ECs) across Europe to identify best practices.
In this webinar, we'll be exploring:
Life changes as a way to identify individuals in energy poverty
Engaging with other social actors
Acting at the community level
How to reach households
Who needs to be involved?
Getting ECs on board to tackle energy poverty
Featuring input from project partners such as ALIenergy (UK), Repowering (UK), and ZEZ (Croatia), and more, you'll also have the chance to participate in a Q&A at the end of the webinar.
➡️ The webinar is free and open to all. Sign up now!