Event Information
Refund policy
Contact the organizer to request a refund.
Eventbrite's fee is nonrefundable.
How to get my kids to listen: behaviour tips and sensory hacks that WORK!
About this event
Frustrated?
Feel like you keep repeating yourself?
Always running late because your kids don't listen to you?
Wonder why they just stand and stare at you when you tell them to pick up their bike because it's time to leave, NOW?
I've teamed up with Munira from Neurobics Kids - a former teacher and Sensory Specialist.
We are going to look at listening, and hearing, from both a behaviour and sensory standpoint, and will give you tools to make those mornings smooth and improve your communication within your whole family - Brain-based, heart led parenting techniques you can use straight away.
90 mins of workshop, 30 mins of Q and A - lots of time to ensure that we can answer each of your questions.
Pricing: You choose.
The usual price of the workshop is 20€. However, we don't want cost to be a barrier to your attendance, so there's a discounted ticket price available of 10€. Please choose this one if you are struggling with finances at the moment.
Any questions, feel free to reach out to either of us on social media, or contact me on disciplinepositive@atack.fr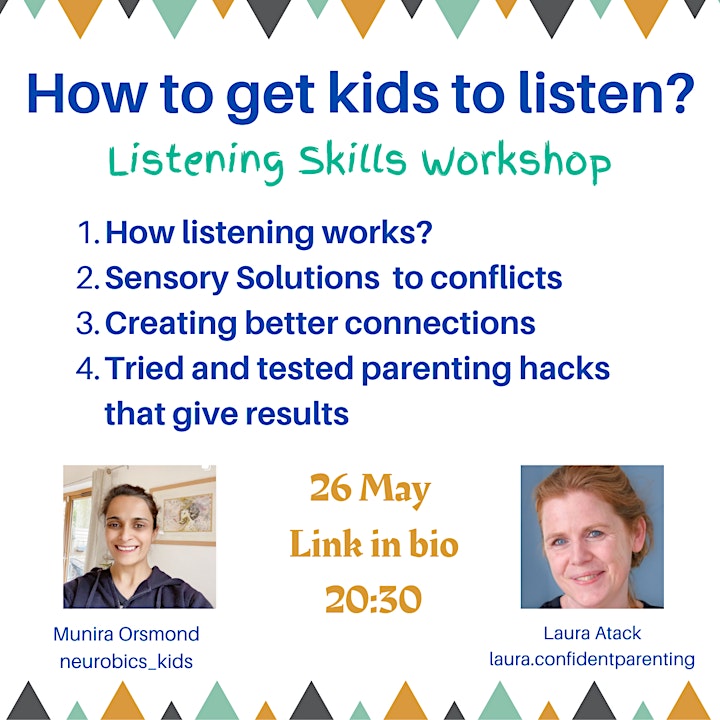 Date and time
Location
Refund policy
Contact the organizer to request a refund.
Eventbrite's fee is nonrefundable.
Organizer of How to get your kids to listen
Stuck in a parenting rut?
You are trying your hardest to be a kind and loving parent, but it's not working. Your children don't listen - at least, not until you start yelling.
​Or maybe you resort to keeping peace by prioritising their needs over everything else. Which means your own needs get pushed aside and you end up losing yourself along the way..
This is NOT how you imagined yourself as a parent. You wanted a calm, warm, happy home. A loving bond with your children that grows stronger everyday. But instead you feel overwhelmed. Worried that you are doing it all wrong. That you won't manage to raise your kids to be the confident, kind, well-adjusted adults you hope for.
​You're frustrated, drained - parenting isn't supposed to be this hard, right?
Your parenting instincts are spot on! You are here because deep down you know there's a better way to parent. You are right! It's just that these days most of us parent without support networks, away from "a village". Without any guidance and feedback. So we learn by trial and error and do the best we can. But you don't have to figure it out on your own! All you need is to be shown the way. To be empowered and encouraged to use your inner wisdom to parent positively.
​In case you are new to it, positive parenting is about building a child's self-esteem while nurturing mutual respect. It combines kindness and setting appropriate limits. Like Goldilocks, not too firm, not too loose but just right.
The result? Children learn valuable social skills that serve them for life. They grow to be confident and compassionate. Able to balance their needs with those of others.
​​But the benefits are not just for the distant future. This approach can help you NOW to better deal with parenting challenges, without the power struggles and crippling self-doubts. To balance your OWN needs with those of your children and claim time for YOU and your wellbeing.