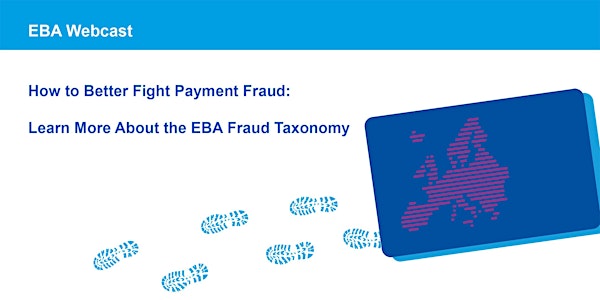 How to Better Fight Payment Fraud: Learn More About the EBA Fraud Taxonomy
The EBA Fraud Taxonomy provides a common pan-European vocabulary for fraud types to improve fraud reporting, prevention and detection
About this event
When: Wednesday, 8 February 2023, 14:00 to 14:45 CET
The Euro Banking Association (EBA) invites fraud-fighting and fraud reporting experts from the banking industry and other interested stakeholders to join this webcast to learn how implementation of the EBA Fraud Taxonomy could help their institutions and intelligence-sharing initiatives to better combat payment fraud.
Since October 2022, the EBA Fraud Taxonomy, a pan-European taxonomy for payment fraud types, has been publicly available. The taxonomy has been developed by the Association's Expert Group on Payment Fraud-related Topics to support collective and individual fraud combatting efforts in the European payments ecosystem.
The EBA Fraud Taxonomy enables – for the first time – a pan-European approach to payment fraud categorisation with the aim to contribute to the combatting of payment-related fraud at a pan-European level. It is applicable to both payment fraud and card fraud. The taxonomy has been designed to help streamline fraud categorisation in the context of payment fraud reporting as well as data and intelligence sharing for fraud prevention or detection purposes. It should also support payment service providers in developing effective fraud prevention campaigns for their customers.
The webcast will cover the following topics:
• Introduction to the structure of the EBA Fraud Taxonomy
• Objectives of the EBA Fraud Taxonomy
• First implementation initiatives at bank-individual, regional and pan-European level
• Principal updates included in the latest version of the EBA Fraud Taxonomy
• Information about the annual change cycle aimed at ensuring that the EBA Fraud Taxonomy evolves in line with latest insights provided by fraud experts on how to effectively categorise fraud types
In addition, the webcast provides an opportunity to discuss with fraud experts from the EBA Expert Group on Payment Fraud-related Topics.
The webcast is free and open to both EBA members and non-members.