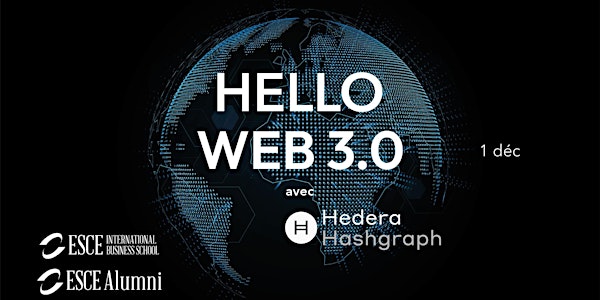 Hello Web 3.0, le retour de valeur pour le consommateur
L'ESCE vous invite à découvrir Web 3.0, Le Retour de Valeur pour Le Consommateur avec l'écosystème de Hedera Hashgraph
When and where
Location
ESCE 82 Espl. du Général de Gaulle Tour Coeur 2, 8ème étage, amphi 8.05 92400 Courbevoie France
About this event
L'ESCE et son association alumni vous invitent cordialement à découvrir l'écosystème Web 3.0, Le Retour de Valeur pour Le Consommateur, avec l'écosystème de Hedera Hashgraphde Hedera Hashgraph lors d'une conférence dans nos nouveaux locaux situés à La Défense. Les sujets incluent : l'adoption du Web 3.0 par les consommateurs, les identités numériques (DID), les NFTs, les jeux et les métaverses, et les CBDCs (monnaies numériques de la Banque centrale).
Cette conférence est une introduction aux évolutions technologiques vers le Web 3.0 et les manières avec lesquelles les consommateurs s'adaptent aux projets Web 3.0 par Play-to-Earn, Royalties, et les benefices Direct to Consumer de decentralization. Seront révelés les futurs plans de développement d'Hedera Hashgraph et ses opportunités. Puis, Benoît Kulesza, organisateur de Web3 Talent Fair, dévéloppera les opportunités d'embauches dans ce bear market de crypto.
L'événement est gratuit pour les étudiants, les alumni d'ESCE, et les professionnels intéressés par Web3, NFTs, et blockchain. Après les présentations, les invités sont conviés à un cocktail dans le nouveau incuabateur, Omnes Labs.
Le réseau Hedera est un grand registre public (DLT) innovant et durable, pour l'économie décentralisée. La plate-forme est régie par un conseil diversifié d'ampleur mondiale. Elle compte dans ses rangs les organisations leaders de l'industrie, y compris abrdn, Avery Dennison, Boeing, Chainlink Labs, Dentons, Deutsche Telekom, DLA Piper, EDF (Électricité de France), eftpos, FIS (WorldPay), Google, IBM, the Indian Institute of Technology (IIT), LG Electronics, Magalu, Nomura Holdings, ServiceNow, Shinhan Bank, Standard Bank Group, Swirlds, Tata Communications, Ubisoft, University College London (UCL), Wipro, et Zain Group.
Pour plus d'informations, visitez www.hedera.com
Conférenciers :
Raphaël MESSIAN
Le Developer Advocate chez Swirld Labs pour l'adoption EMEA d'Hedera Hashgraph
Ancien élève d'ESCE Master Blockchain Project Design
https://www.linkedin.com/in/rapha%C3%ABl-messian-678aa1135/
Benoît Kulesza
Decentralization & Collaborative Evangelist | Builder of the #futureofwork
Founder of Good Hive Protocol & Web3 Talent Fair
https://www.linkedin.com/in/benoitkulesza/
Dr. Won KIM
Professeur ESCE, Responsable d'International Digital Marketing
https://www.linkedin.com/in/kimwon/
Professor at ESCE, Coordinator of International Digital Marketing department
https://www.linkedin.com/in/kimwon/