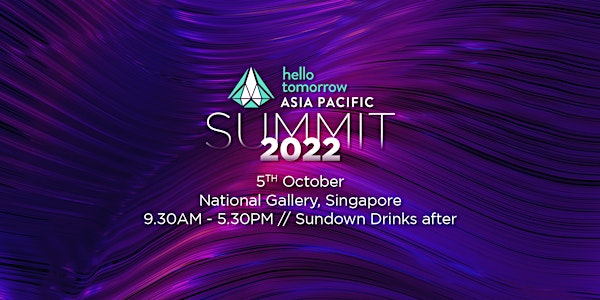 Hello Tomorrow Asia Pacific Summit 2022
Future technologies brought closer to the present.
When and where
Location
National Gallery Singapore 1 Saint Andrew's Road #01 – 01 Singapore, 178957 Singapore
About this event
THE HELLO TOMORROW APAC SUMMIT IS BACK
Discover how the latest deep technological developments will impact industry, society and humanity. Identify the breakthrough technologies and trends with staying power that will shape future narratives. Learn how to build on and take advantage of what is possible at the edge of scientific commercialisation.
With >60 startups and speakers across two stages, and start-up pitches at our 𝗛𝗲𝗹𝗹𝗼 𝗧𝗼𝗺𝗼𝗿𝗿𝗼𝘄 𝗔𝗣𝗔𝗖 𝗖𝗵𝗮𝗹𝗹𝗲𝗻𝗴𝗲 𝗙𝗶𝗻𝗮𝗹𝘀, there'll be plenty of inspiration to go around!
This year, we explore four themes through which advancements in deep technology stand ready to deliver the greatest impact across the sustainability and availability of resources.
Sustainable Food Systems | Taking care of our food's food | Making cultured everything a reality | Food systems as agents of sustainability in the global supply chain | Turning food waste into a healthy food source |
Inclusive & Affordable Health | Digital patient twins | Regenerative medicine | Genomics-based diagnostics | Molecular therapeutics |
Cleaner Energies | Scaling low-carbon energy production and storage | Accelerating green H2 production | Producing carbon-negative biofuels | Building fusion-based reactors |
Regenerative Industries | Going circular through waste-to-value processes | Creating a CO2-based economy | Decentralised, on-demand, and on-site scalable manufacturing and processing | Using our oceans as sustainable 'healthy' carbon storage |
Supported by insights gathered from Hello Tomorrow's global community of deep tech players (and synthesised together with our knowledge partner BCG), we invite you to contribute to and learn from an ever-expanding body of knowledge that we collectively develop and leverage to advance industry leadership for a better tomorrow.
Enjoy a day of
Startup Pitches - Watch the Hello Tomorrow Asia Pacific Challenge Finals unfold as we crown our region's top innovations!
Visionary Keynotes - Explore the future developments of pertinent themes
Innovator Series - Witness groundbreaking technological advancements
Panels - Let's discuss the impact of these technologies and how we can drive meaningful collaborations to produce success
Get your passes today! Includes refreshments and access to our Sundown Drinks after. It'll be a good time.
Visit https://www.hello-tomorrow-apac.org/summit-2022 for more information and follow us on LinkedIn for the latest updates!