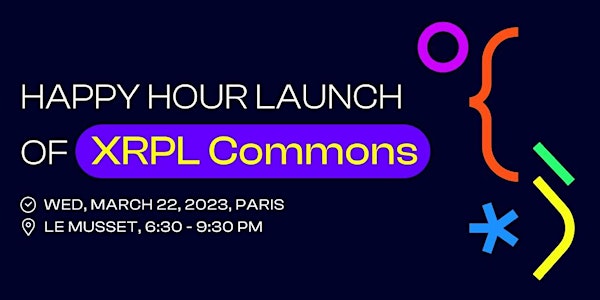 Happy Hour Launch of XRPL Commons
Meet XRPL Commons and join our community of developers and blockchain enthusiasts to learn about our upcoming XRPL programs.
When and where
Date and time
Wednesday, March 22 · 6:30 - 9:30pm CET
Location
Le Musset 169 Rue Saint-Honoré 75001 Paris France
About this event

Paris Blockchain Week Side Event on March 22nd
Join us for our soft launch of XRPL Commons, our Paris-based new non-profit XRP Ledger association focused on educating and empowering the global XRPL community.
With a mission to nurture a strong and vibrant XRPL ecosystem, XRPL Commons aims to provide education, hands-on Building programs, and resources for the global XRPL community based on collaboration and an open source mindset. 

With the opening of a physical space in the heart of Paris, they aim to be a collider for developers, innovators, researchers, startups, corporations, non-profits, investors, and all game changers who believe in the usefulness of Web3 for a fairer society. 
🇫🇷 ٭ 🇫🇷 ٭ 🇫🇷
Retrouvez-nous pour le lancement d'XRPL Commons, notre association basée à Paris dont la mission est de développer et consolider la communauté XRP Ledger.
Pour que l'écosystème XRPL soit robuste et dynamique, XRLP Commons propose des programmes de formation, des cas d'études, de l'accélération de projets opérationnels et différentes ressources pour la communauté XRPL dans son ensemble, dans un esprit de collaboration et d'open source.
Le lieu dédié qui ouvre ses portes au coeur de Paris sera un catalyseur pour les développeurs, innovateurs, chercheurs, startupers, grands groupes, investisseurs et acteurs associatifs, tous les games changers qui sont convaincus que le Web3 peut participer à l'avènement d'une société plus juste.