Green Finance Research Advances

Thursday, 14 December 2017 from 08:30 to 18:00 (CET)
Event Details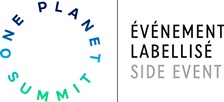 A joint-one day research conference by

Under the patronage of

This research-focused day aims to share knowledge on the most current academic research on Green Finance, and more specifically on the following topics: green bonds, innovative tools for a sustainable and green finance,  and climate-related transition risks for financial actors.
The event is held by Institut Louis Bachelier on behalf of the research chairs it represents, by I4CE - Institute for Climate Economics, and by the Finagri Chair (Sorbonne Business School, Paris 1) funded by the principal actors of the agricultural sector to develop academic research on innovative financial mechanisms.


The day is divided into three sessions, encompassing presentations of academic papers and roundtables gathering researchers and practitioners (banking institutions, asset managers, insurance companies, corporates …).


The audience targeted is researchers and professionals interested in research production or broadly speaking innovation in the domain: consulting companies, rating agencies, regulatory institutions and monitoring bodies…


The Scientific Committee includes: Jean Boissinot (French Ministry for the Economy and Finance), Morgan Després (Banque de France), Philippe Dessertine (IAE Paris Sorbonne), Benoît Leguet (I4CE), Charles-Albert Lehalle (CFM, Paris and Imperial College, London), Anne-Claire Roux (Paris EUROPLACE/Finance for Tomorrow), Peter Tankov (ENSAE), Bertrand Villeneuve (Dauphine).


Open free admission but limited places – Registration required.

Provisional PROGRAM
8.30am    Registration and Coffee
9.00am      Welcome Address by
                  IAE : Eric Lamarque, Director, IAE Sorbonne Business School
                           Philippe Dessertine, Scientific Director, Chair Finagri
                  Arnaud de Bresson, General Delegate, Europlace/Finance for Tomorrow
                  Morgan Després, Head of Financial Regulation Policy and Coordination Division, Banque de France
                  Jean-Michel Beacco, General Director, Institut Louis Bachelier
                  Pierre Ducret, President, I4CE
9.50am  Session 1: Green Bonds
               Presentation of four academic papers
> PARIS 10, Patricia Crifo   "Environmental, Social and Governance (ESG) performance    and sovereign bond spreads: an empirical analysis of OECD countries »
> ISFA Lyon/ Tilburg University, David Zerbib  « the green bond premium»
> OCDE, Hideki Takada "Mobilising Bond Markets for a Low Carbon Transition"
> FINAGRI CHAIR, Marco Migliorelli « Time for new financing instruments ? A market-oriented framework to finance environmentally – friendly practices in EU agriculture »
10.50am  Coffee Break
11.00am  First Roundtable : « State of the art and evolution of the green bonds market »
                Moderator:  Philippe Dessertine, IAE Sorbonne Business School
Participants: Patricia Crifo, Marco Migliorelli, Hideki Takada, David Zerbib, and:
> EIB,  Aldo Romani (Deputy Head of Funding)
> EDF EN, Denis Rouhier (CFO)
> AMUNDI, Frédéric Samama (Deputy Global Head of Institutional and Global Clients)
> HSBC, Frédéric Gabizon (Head of European Public Sector)
> IFC, Elena Panomarenko (Senior Financial Officer – Funding Treasury)
> LuxSE-TBC, Chiara Caprioli (Business Development Manager)
> S&P rating agency, Noémie de la Gorce (Expert Green Finance)
> INVIVO, Carole Sorreau (Director Institutional Relations)
1.00pm    Buffet Lunch
2.00pm   Keynote lecture by Jean Boissinot Director; Financial Stability, DG Trésor, French Ministry for the Economy and Finance
2.30pm  Session 2: Innovative Tools for a Sustainable and Green Finance

> Stéphane Voisin, Green Data Lab
> Thierry Mathieu – Engie
> Rodolphe Bocquet –  Beyond Rating
> Valéry Lucas-Leclin – Grizzly
3.30pm    Coffee break
4.00pm  Session 3: Exposure of Financial Actors to Low-Carbon Transition Risks
               Presentation of four academic papers:
> Elie Bellevrat, Senior Energy Analyst, World Energy Outlook: Energy Demand Outlook Division Directorate of Sustainability, Technology and Outlooks, IEA (International Energy Agency)

> Directorate of Sustainability, Technology and Outlooks, IEA (International Energy Agency)
> PARIS 1 PANTHEON-SORBONNE, Chair Energy & Prosperity, Alessandro Ravina
> Vienna University of Economics and Business, Irene Monasterolo "A climate stress-test of the financial system"
> OSSIAM, Carmine De Franco "Carbon Footprint for dynamically rebalanced portfolios"
5.00pm  Second Roundtable: « How may financial actors manage their transition risks? »
               Moderator: Olivier de Bandt, ACPR
Participants : Elie Bellevrat, Alessandro Ravina, Irene Monasterolo, Carmine De Franco and :
> Banque de France, Laurent Clerc, Directeur de la Stabilité Financière
> BNP Paribas, Christine Lafon, Risk Anticipation Manager
> AXA, Esther Delbourg, Head of Responsible Insurance, AXA Group Corporate Responsibility
6.00pm Concluding Remarks


--
When & Where

IFG Paris / INSEEC Group

10 rue Sextus Michel
75015 Paris
France


Thursday, 14 December 2017 from 08:30 to 18:00 (CET)
Add to my calendar
Organiser
Fidèle à son appartenance au service public universitaire, l'IAE de Paris est une Business School attachée au développement personnel d'individus, quelles que soient leurs origines, choisis pour leur potentiel, leurs parcours d'études ou professionnels antérieurs.
La mission de l'IAE de Paris est de favoriser la démocratisation de l'exercice de hautes responsabilités dans les organisations au travers de modalités originales comme la double compétence, l'apprentissage et la formation continue diplômante.
Cette conception de l'action de formation s'inscrit dans une vision non déterministe de la carrière professionnelle au long de la vie où le progrès de chacun est fondé sur son potentiel et son mérite.