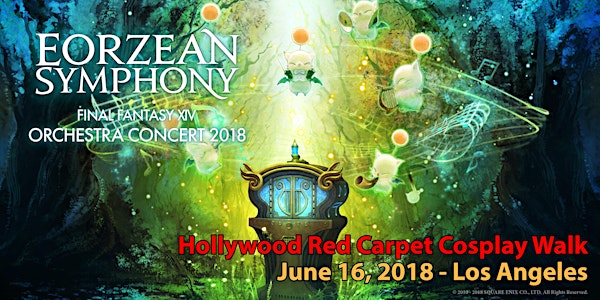 FINAL FANTASY XIV Hollywood Red Carpet Cosplay Walk
When and where
Location
Dolby Theatre 6801 Hollywood Boulevard Los Angeles, CA 90028
Description
FINAL FANTASY XIV Orchestra Concert 2018 - Eorzean Symphony
Join the first-ever FINAL FANTASY XIV Hollywood Red Carpet Cosplay Walk preceding the June 16 Performance!
Calling all cosplayers!

We're pleased to announce that we're offering attendees of the FINAL FANTASY XIV Orchestra Concert 2018 -Eorzean Symphony- the opportunity of a lifetime—the chance to walk the red carpet in costume on the world's most famous boulevard, the prestigious Hollywood Walk of Fame! The fans attending the concert won't want to miss this unique opportunity to show off their amazing cosplay on Hollywood's legendary red carpet. Walk into the historic theater, take memorable photos with friends and fellow attendees, and share the red carpet with producer and director Naoki Yoshida, sound director and composer Masayoshi Soken, and vocal artist Susan Calloway!

While everyone is welcome to watch this historic event, those seeking to be a part of the Hollywood Red Carpet Cosplay Walk must possess a FINAL FANTASY XIV Orchestra Concert 2018 -Eorzean Symphony- concert ticket for either the June 15 or 16 performances.

Tickets can be purchased on Ticketmaster: https://www.ticketmaster.com/Eorzean-Symphony-FINAL-FANTASY-XIV-Orchestra-tickets/artist/2466348

Watch the concert video trailer here: https://www.youtube.com/watch?v=jDq4zUkKE1s 
Watch the Eorzean Symphony Preview Live Stream in English with Producer/Director Naoki Yoshida and Sound Director/Composer Masayoshi Soken: https://www.twitch.tv/videos/253462989

Saturday, June 16, 2018 - Schedule of Events
3:00–4:30 PM: Pre-registration check-in and on-site registration (capacity permitting)
3:30–5:00 PM: Dressing and prepping in the dressing room
5:00–6:00 PM: FINAL FANTASY XIV cosplayers walk the carpet, followed by the concert's special guests
6:00-7:00 PM: All ticketed attendees (our treasured Warriors of Light) can walk the red carpet
7:00 PM: Venue doors open
8:00 PM: Concert begins (ticket required)

Location
Hollywood Walk of Fame, outside the Dolby Theatre
6801 Hollywood Blvd, Hollywood, CA 90028

Pre-registration for the Hollywood Cosplay Red Carpet Walk event is highly recommended and can be done free of charge at https://www.eventbrite.com/e/red-carpet-cosplay-final-fantasy-xiv-orchestra-concert-2018-eorzean-symphony-tickets-45944975659. Pre-registered cosplayers will be welcomed first, while on-site registration may be possible based on event capacity. Each participant will have access to a shared changing room inside the Dolby Theatre (adjacent to the box office). Organizers will guide all participants from there.

Please Note: Cosplayers attending the event will have access to a dressing room from 3:30–5:00 PM. Once the walk has concluded, cosplay is authorized within the concert venue foyer, but any costumes or props that might prevent others seated near you from fully enjoying the concert will not be allowed within the concert hall itself. The venue will provide a coat check service to all patrons to store such items. Please be aware that neither the concert organizers nor Square Enix are responsible for personal belongings stored in the coat check service or left unattended in the dressing room.