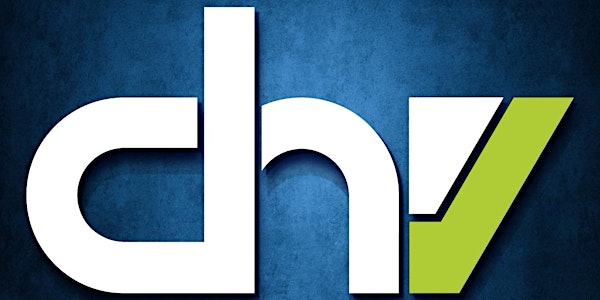 Exploring Digitally-Enabled Behaviour Change In Healthcare
Network and learn with expert speakers and an international delegation of experts and decision makers.
About this event
This is the second event in season 3 of DHV-NET's event series designed to support continual learning and access to high quality networks in digital health.
In this session you will hear from leading domain experts to help you explore the topic of digitally-enabled behaviour change in the context of healthcare and you will interact with an international delegation of experts and decision makers. You should leave with an enhanced understanding of the topic and many new and useful connections.
Our events provide a highly efficient, productive and green alternative to traditional conferences.
DHV-NET members please enter your code to gain free admission.
If you are attending a DHV-NET event for the first time in season 3 (Sept 21 - July 23) please register your interest on the Linkedin event site (using this link) and we will reach out to provide a ticket free of charge (value 289€/£249).
If you are not a DHV-NET member and you have used your "one off free ticket", you are welcome to purchase a ticket if you fall into the "decision maker or expert" category. Please contact us on info at DHV-NET.com for any queries.
DHV-NET's monthly events are different and entertaining, scoring an average of 90% from delegates for "how useful" and 92% for "how engaging". They are highly interactive requiring attendees to contribute to the session. For more information please see www.dhv-net.com.
NOTE:
We operate a no refunds policy but we will offer free admission to another event of your choosing if you let us know in advance that you cannot attend an event that you have paid for.
If you register using a free ticket and cannot attend, please let us know via email at info at dhv-net.com before registration closes. We will offer another free ticket to a session of your choice in season 3 - we will be delighted if you can join us!
If you register for an event using a free ticket but do not attend, you must purchase a ticket for any subsequent event that is of interest in season 3 or any other season.
___________
SPEAKERS:
Alyssa Dietz, Senior Director, Precision Care Strategy, Twill (Formerly Happify)
Joel Shopland, Behaviour Change Scientist, Lumanity
Gareth Harvey, Director Of Consumer Psychology, Decide
___________
FORMAT
DHV-NET events deliver a mixture of 1:1 expert interviews, panel discussions, rapid networking, inter-delegate discussion and entertainment in the form of live musical performances. We struggle to describe the experience so here's some feedback from our April 2022 session:
"Thanks so much for today's invite. In order to attend I had to cancel going to the xxxxx event today and I am so glad I did. It was superb. Usually, nothing beats in person events but well-curated virtual events like yours with stimulating people and discussion, beats generic in-person conferences.
You put together an incredible group of people and the topics and moderation was really good. Right rhythm, right topics and right people. To top it all, the music was lovely too. Just what we all needed on a Thursday afternoon"
______
THE SMALL PRINT
You must have a Zoom account to participate in these events and we will ask you to share your account name during registration which will be used as a means of identification. You will not be allowed on the call if you do not share this information.
These events are for senior decision makers seeking B2B contacts. We reserve the right to refuse entry to preserve the quality of the delegation.
GDPR Statement: The data we collect during the registration process are held on safe servers within the EU. As a network-based event, your data may be used to help make introductions but we will not share your contact details with any third party outside of the event . Your email address will not be shared with any individuals or organisations taking part in the event.
_______