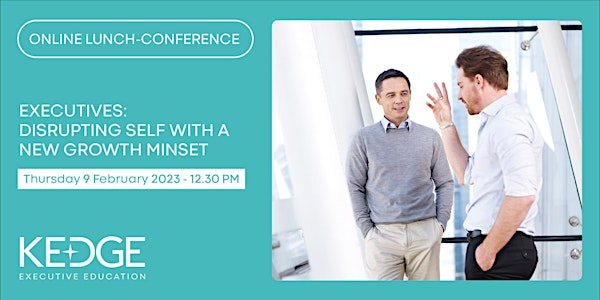 Executives: Disrupting Self with a New Growth Mindset
KEDGE is pleased to invite you to an online Lunch-Conference session (bring your lunch), around the theme of upgrading Executives skills.
By KEDGE Executive Education
Date and time
Thu, 9 Feb 2023 03:30 - 04:30 PST
About this event
ABOUT THE LUNCH-CONFERENCE
This 45-minutes session reveals insights and tips on how individuals nurture self-transformation and growth mindset through personal learning and development experiences, and disrupting themselves for Growth.
This mini-conference is deliberately designed in a dynamic format with a time for exchange at the end of the session.
About the organiser
KEDGE est une école de management multi-spécialiste, qui confirme régulièrement sa progression dans les classements français et internationaux.
Depuis plus de 20 ans, nous formons des professionnels en formation continue sur nos campus en France (Bordeaux, Marseille, Paris) mais également à l'étranger comme à Dakar ou à Shanghai, et accompagnons l'évolution des organisations (Grands Groupes, ETI, PME) à travers le déploiement de dispositifs de développement des compétences et de transformation des pratiques professionnelles.
Dans ce contexte, nous proposons une offre à 360° et couvrant tous les enjeux : programmes courts, certifiants, diplômants et sur mesure.
Retrouvez-nous sur notre site formation.kedge.edu
---
KEDGE is a multi-specialist Management school, steadily improving in French and international rankings.
For more than 20 years, we have been training Executives on our campuses in France (Bordeaux, Marseille, Paris) but also abroad, in Dakar or Shanghai. We support the evolution of organizations (Large Groups, Midcaps, SMEs) developing skills and transforming business practices.
We propose a 360° offer covering all issues: short, certifying, graduating and tailor-made programs.

Find us on our website executive.kedge.edu