Description
TOPIC: REINVENTING WORLD : WHEN EMERGING PEOPLE HACK INNOVATION !

CxSummit brings together entrepreneurs, scientists, business executives, CEOs, academics, innovators, business angels, investors, venture capitalists, tech enthusiasts and media to explore opportunities between the emerging tech ecosystem and world class innovators.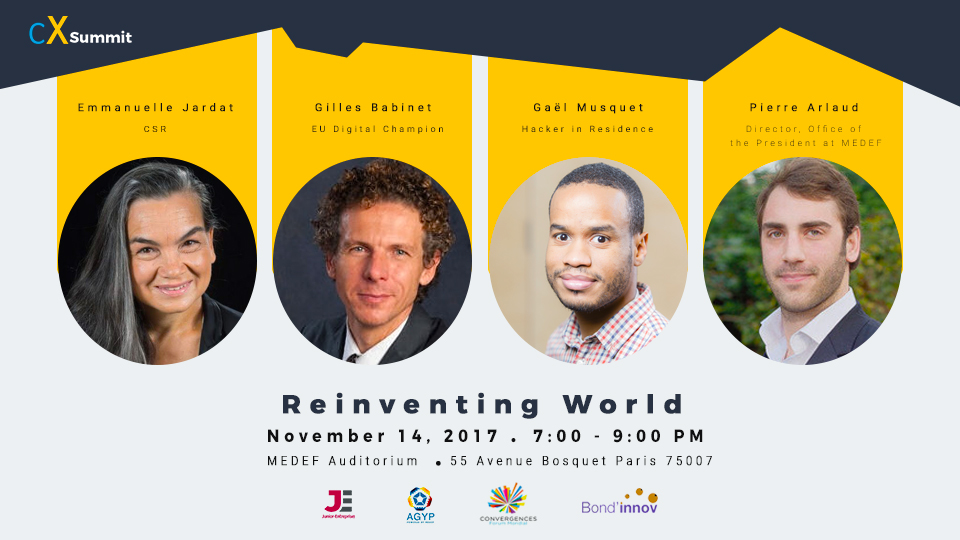 #cxsummit is more than a conference, it is an equity fund event where you will connect with key players of the Emerging/Global Tech Ecosystem from Africa, Asia, LATAM, CEE and the MENA region and will also be inspired and stimulated by talks and pitchs of some of the world's leaders.

Join us in PARIS, NOVEMBER 14 , 2017 in the biggest emerging markets innovation Summit.

http://summit.connectxglobal.fr/

See you in Paris!

Programme:
6:30pm - Opening Plenary

7:30pm - First round-table session focused on fintech / e-commerce

8pm - Pitchs session

8:20pm - Second round-table session focused on Tech for good / Diversity In Tech

9pm - Closing plenary

9:15pm - Networking cocktail


Team Connectx Global

-----------------------------------------------------------------

CxSummit réunit des entrepreneurs, scientifiques, chefs d'entreprise, PDG, universitaires, innovateurs, investisseurs, amateurs de technologie et des médias pour explorer les possibilités offertes par l'écosystème Tech émergent et les innovateurs de classe mondiale.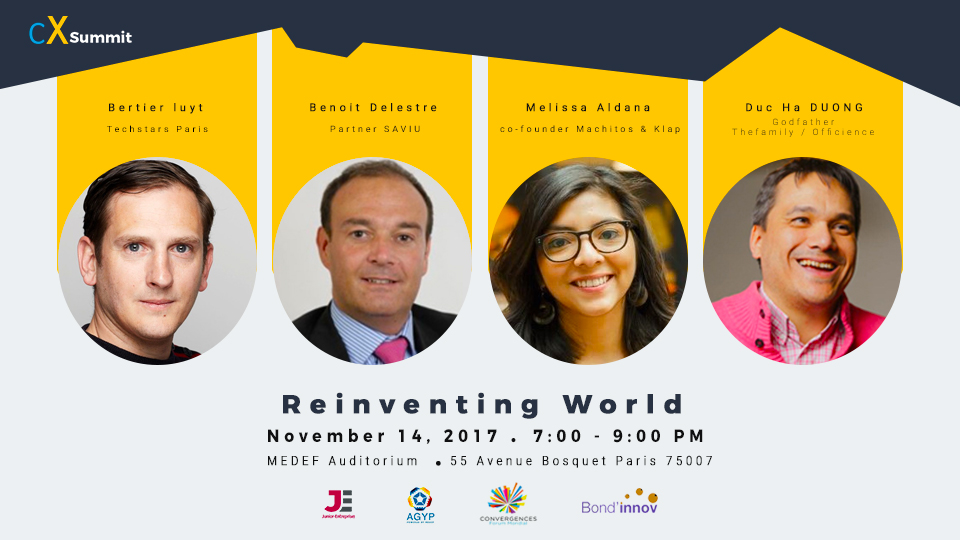 #cxsummit est plus qu'une conférence, c'est un événement de fonds d'actions où vous pourrez rencontrer les principaux acteurs de l'écosystème émergent / Global Tech venus d'Afrique, d'Asie, d'Amérique Latine, du Moyen-Orient, et d'Europe Centrale et de L'Est, tout en étant inspirés et stimulés par les tables-rondes et les pitchs de certains des leaders du monde.

Rejoignez-nous à PARIS, LE 14 NOVEMBRE 2017, lors du plus grand Sommet de l'innovation des marchés émergents.

http://summit.connectxglobal.fr/

Rendez-vous à Paris!

Planning:
18h30 - Ouverture des portes
19h - Plénière d'ouverture
19h30 - Première table ronde, dédiée à la fintech / au e-commerce
20h - Session de pitchs
20h20 - Seconde table ronde, dédiée à la diversité dans la Tech / Tech for Good
21h - Plénière de clôture 21h15 - Cocktail / Networking

Team Connectx Global