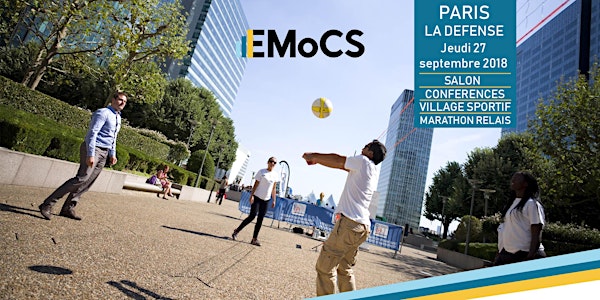 European Meetings of Company Sport (EMoCS)
When and where
Location
La Défense Tour Coeur Défense 92400 Courbevoie France
Description
EMoCS (European Meetings of Company Sport) est un projet Erasmus+ lié à la Semaine Européenne du Sport (EWoS) dont l'objectif est d'améliorer le taux d'activité physique des citoyens européens.
---
Organisé au coeur du premier quartier d'affaires Européen, à la Défense, EMoCS se compose de quatre événements majeurs pour développer la pratique du sport en entreprise :
- Un salon européen du sport et de l'entreprise - Sport Wellness Lab : après deux éditions à succés, pep'Sport prend une dimension internationale et devient SPORT WELLNESS LAB. Cette année encore, il s'agira de souligner les bénéfices liés à l'activité physique dans le monde de l'entreprise et aussi d'identifier, de proposer aux décideurs privés et publics des recommandations pour le développement du sport en entreprise.
- Des conférences et tables rondes
- Un village sportif
- Un challenge connecté
Intéressés par le sujet #sportentreprise ? #bienêtre ? #santé ?
N'hésitez pas à rejoindre cette première étape du projet EMoCS, le 27 septembre 2018 à la Défense !
---
To implement sports and physical activity in the workplace: it is the ambitious goal of EMoCS (European Meetings for Company Sport) an European project lead by the European Federation for Company Sport (EFCS) with 8 European partners from Italy, Belgium, France, Finland, Slovenia and Spain, and sponsored by the European Commission and Erasmus+.
Next 27th of September Paris will host a bunch of activities under one event : EMoCS 2018.
EMoCS 2018 is divided into 4 events to inform and promote company sport during the European Week of Sport (EWoS) :
- Fair (Sport Wellness Lab),
- Exhibition, conferences
- Digital and connected race
Join us in La Defense, the 27th September 2018 !
Register to the event !