About this Event
Welcome to NAUSICAA for the annual meeting of the European Union of Aquarium Curators (EUAC) which will be held from 14 to 18 October 2019 in Boulogne-sur-Mer.
A large number of tours are also being organised by a partner agency.
You will find full details in the congress website !
The calls for papers are open.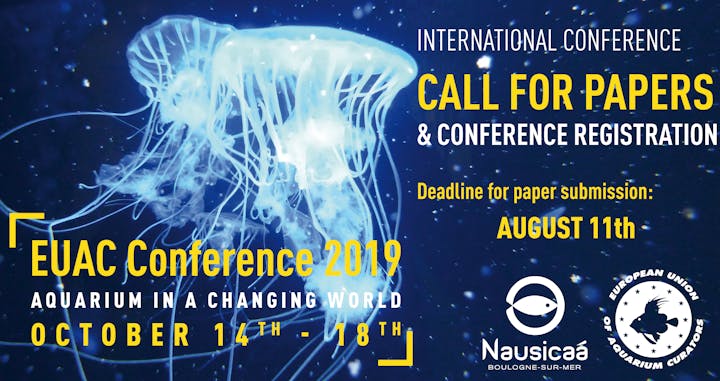 The EUAC 2019 will explore how aquariums engage with society, and especially how they involve their audiences and relevant stakeholders in their daily activities, research and their conservation programs.
Fostering public and stakeholders engagement is proving to be a driver for the development of our organizations.
How aquariums engage collectively with global audiences and decision-makers will determine our influence as a community.
« Aquariums in a changing world » in the general theme of the EUAC congress 2019. In a rapidly-changing world, both environmental and societal, aquariums must evolve to better meet the expectations of their audiences? Their mission - spread awareness on the marine environment, increase understanding of its importance and the need to preserve it - must take into account these upheavals and accompany them.
With a cross cutting theme, the position of aquariums as mediators between science and the general public means that they are catalysts for change on several aspects :
Public engagement : initiate dialogue on the importance of transforming our habits
Scientific information : initiate and drive the dissemination of information to encourage participation in the United Nations Decade of Oceanic Sciences for Sustainable Development (2021-2030) with UNESCO's Intergovernmental Oceanographic Commission (IOC) as a coordinator.
Education : turn the tide and improve general knowledge on the seas and oceans (« Ocean literacy »)
For the program schedule, we propose a combination of :
Plenary sessions the share and discuss major findings and issues and stake,
Concurrent or thematic sessions to deepen the exchange on more specific topics
Technical visits, including NAUSICAA backstage, and interaction with other marine professionals,
Keynote Speeches, including globally recognized marine specialist, from research, conservation, and professional realms. They will also involve inspiring speakers from other fields, for instance science communication, internet and social network, innovation & blue economy, tourism. Speakers will come from different countries and regions of Europe.
The interactivity will be reinforced by the format of the sessions (with conveners, time for Q&A etc), the opportunity to meet with exhibitors, breaks, and social events, and the interaction with other marine professionals technical visits.
NAUSICAA's crew is looking forward to welcoming you and will ensure a great 2019 EUAC congress.