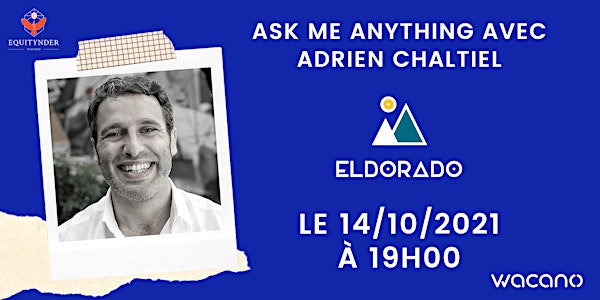 #Equitynder : AMA with Adrien Chaltiel @ Eldorado
Equitynder est un format pour rencontrer le top-tiers des VCs français. L'objectif est de mieux comprendre et mieux adresser les fonds.
When and where
Location
14 Rue Soleillet 14 Rue Soleillet 75020 Paris France
About this event
Levée de fonds, subventions, prêts d'honneur… Quel financement choisir pour ta startup ?
Pour te permettre d'y voir plus clair, on invite Adrien Chaltiel, fondateur d'Eldorado, pour une Masterclass sur les leviers de financements et ainsi répondre à toutes tes questions :
Quel est le financement le plus adapté à mon stade de développement ?
Suis-je éligible aux aides de l'Etat ?
Levée de fonds ou bootstrapping : quel est le meilleur modèle pour ma boîte ?
À l'issue de cette rencontre, tu connaîtras le panorama des financements disponibles et tu pourras prioriser le prochain à activer dans ta feuille de route.
À propos d'Adrien Chaltiel :
Fondateur d'Eldorado & Les Pépites Tech
Business Angels dans Welcome to the Jungle, Datananas, Trustfolio, Clevy, Softn
Auteur du livre : Obtenez les meilleurs financements pour votre projet
À propos de Eldorado :
Plateforme de mise en relation avec des investisseurs pour les startups
3 500 sources de financement référencées dont 1 900 Business Angels
Références clients : Yuka, Lovebox, Brâam, Kymono, Abricot...
Programme :
19h00 : Intro par Vivian @Wacano
19h10 : Meetup AMA* with Adrien CHALTIEL
*AMA pour « Ask Me Anything », un format pendant lequel les participants posent leurs questions à l'intervenant qui y répond en direct.