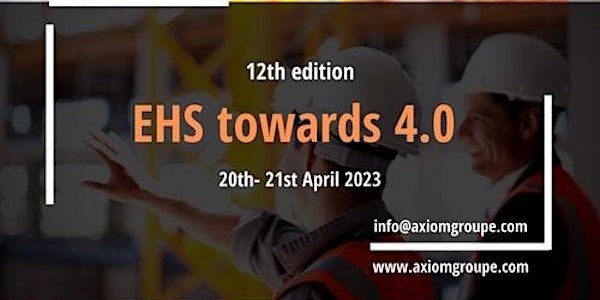 EHS Towards 4.0 2023
The revolution of safety & health environment towards excellence
Fecha y hora
jue., 20 de abr. de 2023 9:00 - vie., 21 de abr. de 2023 18:00 CEST
Ubicación
Carrer de Bergara, 11 11 Carrer de Bergara 08002 Barcelona Spain
Política de reembolso
Contacta con el organizador para solicitar un reembolso.
La tarifa de Eventbrite no es reembolsable.
Acerca de este evento
The Axiom Groupe invites you to join our exclusive and interactive EHS Conference April 20th - 21st, 2023 in Barcelona, at the luxury Hotel Catalonia, Plaça Catalunya ****. The aim of the meeting is to bring together professionals VPs, Global heads, Directors of Environment, Health & Safety, Sustainability, operation safety and excellence etc. from leading multinational organizations across the EMEA region to network, benchmark and learn about Artificial Intelligence for managing workplace safety risks, Smart Safety to react to changes with more flexibility and efficiency, EHS engagement programme , safety in a multi-site 
operation and many more.
Acerca del organizador
Axiom Groupe is a pioneer in the delivery of international business meetings and communications. We provide first-class business meetings that produce insightful strategic information and market relevant business intelligence. At Axiom Groupe, we offer e-marketing solutions; best practice benchmarking opportunities; sales incentives; masterclasses and in-house trainings. We deliver unrivaled first-class corporate hospitality and a host of other Axiom Community services to industry leaders and blue-chip organisations.