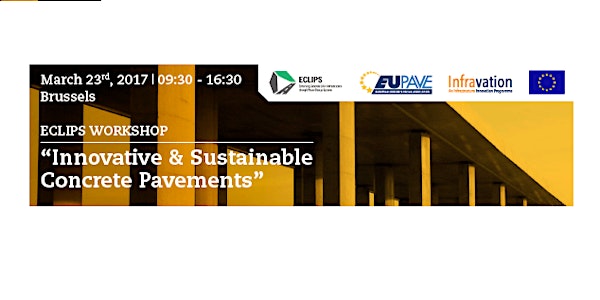 ECLIPS Workshop: Innovative Sustainable Concrete Pavements
Date and time
Thu, 23 Mar 2017 09:30 - 16:30 CET
Location
Boulevard du Souverain 68 1170 Brussels Belgium
Description
ECLIPS is a multi-national project carried out by Arizona State University and University of California Los Angeles (in the US), Swiss Federal Laboratories for Materials Science (Empa) in Switzerland, Technical University-Delft in Netherlands, and TECNALIA in Spain.
The project is funded through the Infravation grant, an initiative of the Conference of European Directors of Roads (CEDR) and coordinated by the Dutch Ministry of Infrastructure and the Environment.
Infravation brings together funding from the German Federal Ministry of Transport and Digital Infrastructure, the Danish Road Directorate, the Norwegian Public Roads Administration, the Swedish Transport Administration, the Icelandic Road Administration, the French Ministry of Ecology, Sustainable Development and Energy, the Spanish Centre for the Development of Industrial Technology, the Italian National Roads and Highways Authority, the Israeli National Transport Infrastructure Company, the Federal Highway Administration (United States), FEHRL, TUV Rheinland Consulting GmbH, the European Union's Seventh Framework Programme and CEDR.
EUPAVE (European Concrete Paving Association) and ACPA (American Concrete Pavement Association) are in charge of the dissemination of the ECLIPS project and main outcomes.
ECLIPS is working on the incorporation of phase change materials with a suitable phase transition temperature, enthalpy of phase change and degree of dispersion in the concrete.
Come to the workshop and learn more about Innovative Sustainable Concrete Pavements!
Find below the programme:
09.30h
Registration and welcome coffee
10.00h
Opening speech - Introduction to Infravation and ECLIPS
Peter Wilbers, ERA-NET Plus Infravation Coordinator
10.15h
ECLIPS – A multinational collaboration on enhancing concrete durability in transportation infrastructure
Narayanan Neithalath, ASU, ECLIPS Project Coordinator

Synthesis of Silica Encapsulation of Phase Change Materials for addition to concrete
Edurne Erkizia, TECNALIA from ECLIPS project

Measuring, modeling and characterizing the influences of phase change materials in concrete pavement applications
Gaurav Sant, UCLA from ECLIPS project
11.20 h Coffee break

11.50h
Impact of PCM on thermal cracking sensitivity and deformability response
Andreas Leemann, EMPA from ECLIPS project

Influence of PCM on micromechanical properties of cement paste and risk of cracking in young concrete
Erik Schlangen, TU DELFT from ECLIPS project
12.30 h
Lunch
13.45h
Experiences with pervious concrete pavements, a performance-engineered concrete
Robert Bachmann, HEIDELBERGCEMENT AG
14.15 h
CSA cement: a case of sustainable jointless paving
Sergio Tortelli, ITALCEMENTI - HEIDELBERGCEMENT GROUP
14.45 h
Inductive charging through concrete roads - A Belgian case study and application
Prof. dr. Anne Beeldens, AB-Roads
15.15h
Coffee break
15.30h
High performance concrete for durable transport infastructure
Steven Scharlaekens, HOLCIM BELGIUM
16.00h
Conclusions of the workshop
Narayanan Neithalath, ASU, ECLIPS Project Coordinator
16.30h
Closing of the workshop
About the organiser
For more information, please contact 
Ms. Elise Carabedian
 e.carabedian@eupave.eu