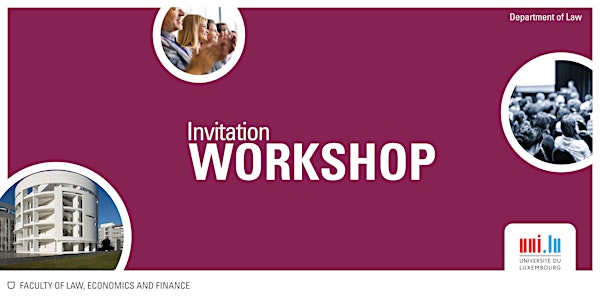 DTU REMS II annual workshop
Law Beyond the State in the 2020s "Methodological and Conceptual Problems"
When and where
Location
Cercle Cité 2 Rue Genistre 1623 Luxembourg Luxembourg
About this event
Thursday, 2 December
13h30 Opening speech - Joana Mendes and Afroditi Marketou, University of Luxembourg
14h00 – 16h00
Panel I - Financial markets and products
Pascale Cornut St-Pierre, University of Ottawa
Anna Chadwick, University of Glasgow
Guido Comparato, University of Birkbeck
Dominik Ornig, Max Planck Institute Luxembourg [discussant]
16h00 – 16h30 Coffee break
16h30 – 18h30
Panel II - Algorithmic decision making
Dimitri Van Den Meerssche, University of Edinburgh
Marieke de Goede, University of Amsterdam
Raphaële Xenidis, iCourts, University of Copenhagen and University of Edinburgh
Georgios Bouchagiar, University of Luxembourg [discussant]
Friday, 3 December
8h00 Coffee and breakfast
8h30 – 10h30
Panel III - Space law
Frans von der Dunk, Nebraska College of Law
Niklas Hedman, United Nations Office for Outer Space Affairs
Lesley Jane Smith, Leuphana University Lüneburg
Antonino Salmeri, University of Luxembourg [discussant]
10h30 – 11h00 Coffee break
11h00 – 13h00
Panel IV - International arbitration
Toni Marzal, University of Glasgow
Edoardo Stoppioni, University of Strasbourg
Ana Harvey, University of Bedfordshire
Bianca Nalbandian, Max Planck Institute Luxembourg [discussant]
13h00 – 14h30 Lunch break
14h30 – 16h30
Panel V – Revisiting 'Law Beyond the State' 2000-2020
Neil Walker, University of Edinburgh
Peer Zumbansen, McGill University
Isabel Feichtner, University of Würzburg
Geoff Gordon, Asser Institute [discussant]
*********
The University of Luxembourg (hereafter "Uni.lu") collects and processes your personal data in the framework of your registration and your participation in this event and the communication of its future activities. Uni.lu processes and keeps your personal information only to the extent necessary to fulfill the purpose stated.
During the registration process your personal data is being collected and processed on the Eventbrite website by Eventbrite Inc. located in the United States. This will involve the transfer of personal data to countries that do not offer the same level of protection as the European Union regarding data protection rules. Eventbrite Inc. participates in and complies with the EU-U.S. Privacy Shield framework as set forth by the US Department of Commerce regarding the collection, use and retention of personal data. Eventbrite may process your personal data as a controller for different purposes than the purposes of the University of Luxembourg. More information is provided on Eventbrite Inc.'s website in their EU-US Privacy Shield Notice, Privacy Notice and Terms of Services.
You can deregister from the event directly on the Eventbrite website and withdraw your consent for the processing of personal data by Uni.lu for the purpose stated above. You have the right to access, rectify, and erase your personal data as well as further rights described on the Uni.lu website. You can exercise your rights by following the procedure described on the website.