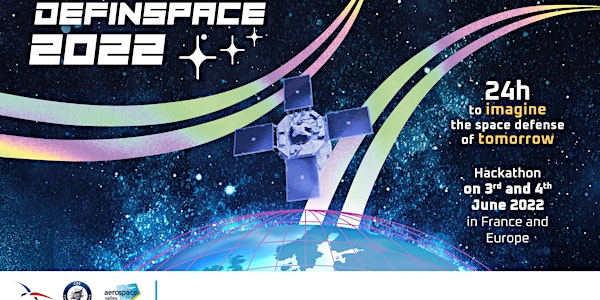 DefInSpace Bulgaria
THE DEFENCE SPACE HACKATHON Answer DefInSpace challenges and unleash your spirit of innovation!
Date and time
Fri, 3 Jun 2022 13:00 - Sat, 4 Jun 2022 19:00 EEST
Location
International Fair Plovdiv 37, Tzar Boris III - Obedinitel 4003 Plovdiv Bulgaria
About this event
DefInSpace is a classic hackathon: 24 hours to imagine solutions for the space defense of tomorrow ! This event, created by the French Space Command and operated by the Aerospace Valley competitiveness cluster, will take place on June 3rd & 4th 2022.
​It is an incredible opportunity for participants to discover the little known universe of defense space and its future challenges as well the new jobs that will result from the latter.
If you are passionate about the space sector and curious to discover the defence world, come and take part in DefInSpace !
-> For more information, please visit:
http://rst-tto.com/rsttakt/index.php/copernicus/definspace-bulgaria-2022
Sponsors and partners:
General sponsor - TBS Ltd. is an international trading company providing some of the world's most innovative and advanced technological solutions securing LandAir and Space.
Through a global partnership network, we are successfully operating in various markets in Europe, Asia, Africa and the Middle East.
Established in 2006, our company has been an esteemed and trustworthy partner to its customers for more than fifteen years. Throughout the successful management, supervision and execution of numerous complex projects, TBS has continuously demonstrated its professionalism and reliability and has consistently been perceived by its partners as committed to always delivering excellence.
Sponsor - Digital Lights is a software company enlightening technological innovations by bringing strategic clarity, technical beauty and highest quality products & services.