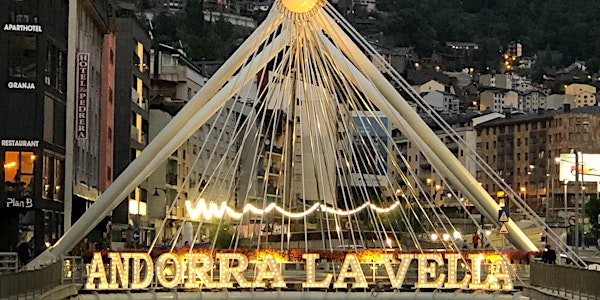 Copy of Visita guiada nocturna Andorra la Vella: Festival de llum i color
Event Information
Location
Plaça de la Rotonda
Plaça de la Rotonda
AD500 Andorra la Vella
Andorra
Esta visita guiada te permite descubrir el bello y rico Patrimonio de Andorra la Vella en un Festival de luz y color. @Andorrafreetours IG
About this event
Descripción ESP -
Disfruta de Andorra y Escaldes cuando oscurece con un agradable paseo por la ciudad. Descubre barrios históricos, esculturas y monumentos, y la arquitectura de vanguardia donde la iluminación juega un papel preponderante. Aprender a jugar con la luz y recrear las emociones de la integración del entorno en el espacio que descubrimos juntos.
Te mostraremos la belleza de nuestro entorno y el rico patrimonio natural, cultural, histórico, artístico, escultórico y arquitectónico que tenemos, siempre en el marco de un festival de luces y colores.
Ven y contempla el esplendor del llamado "diálogo eterno". Admiraremos e interpretaremos su simbolismo tanto en el Principado de Andorra como a nivel internacional, y lo relacionaremos con la importancia y al mismo tiempo la esperanza de un futuro lleno de paz y armonía. Procede a vivirlo con nosotros. Te quedarás gratamente sorprendido.
Aprenderán a apreciar la ciudad con otros ojos y a explorarla en el marco de un festival de luces y color que resalta su legado. Ven a conocer y vivir los secretos que te depara la noche, una noche llena de luz, historias y anécdotas.
Overview
Enjoy Andorra and Escaldes when it gets dark with a pleasant walk through the city. Discover historic neighborhoods, sculptures and monuments, and the avant-garde architecture where lighting plays a preponderant role. Learn to play with light and to recreate the emotions of the integration of the environment in the space that we discover together.
We will show you the beauty of our environment and the rich natural, cultural, historical, artistic, sculptural, and architectural heritage that we have, always within the framework of a festival of lights and colors.
Come and contemplate the splendor of the so-called "eternal dialogue". We will admire and interpret its symbolism both within the Principality of Andorra and internationally, and we will relate it to the importance and at the same time the hope of a future full of peace and harmony. Proceed to live it with us. You are going to be pleasantly surprised.
They will learn to appreciate the city with different eyes and to explore it in the framework of a festival of lights and color that highlights its legacy. Come to know and experience the secrets that the night holds for you, a night full of light, stories, and anecdotes.
Date and time
Location
Plaça de la Rotonda
Plaça de la Rotonda
AD500 Andorra la Vella
Andorra