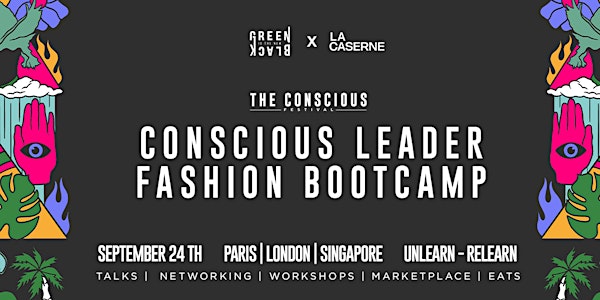 Conscious Leader Bootcamp x Conscious Festival x LA CASERNE
The Conscious Leader© Fashion bootcamp will be held as part as the Conscious Festival in Paris @LACASERNE + also Singapore, London, Online.
When and where
Location
La Caserne - incubateur mode responsable 12 Rue Philippe de Girard 75010 Paris France
Refund Policy
Refunds up to 1 day before event
About this event
THE CONSCIOUS FESTIVAL will host the Conscious Leader© Fashion Bootcamp on Friday 24th September 2021 from 12pm to 6pm in PARIS, with simultaneous gatherings taking place in LONDON & SINGAPORE (seperate registration for these cities coming soon) - connecting participants globally.
The event will be followed in the evening by a special show on LA CASERNE's rooftop, in collaboration with Time For The Planet and with a special dance experience until 10pm.
This specific event is organised in partnership with Ethiwork, WHo CAREs!? Chronicles and LA CASERNE.
🖤 We only have 150 VIP spots 🖤
IN A NUTSHELL
Friday September 24th from 12pm to 6pm
> Join global industry leaders and experts to unlearn and relearn during the TALKS (broadcasted live from Paris, Singapore and London).
> Cutting edge innovators leading deep dive discussions during the local WORKSHOPS
> Networking opportunities (locally and internationally) during lunch time and throughout the evening
> Discovery of LA CASERNE during the official opening weekend
WHO IS IT FOR?
Intended as a tool for industry leaders in the fashion, textile and luxury industry, the event will bring together executives and decision makers to discuss key industry topics such as material innovations, transparency & traceability, purpose lead organisation and inclusion.
WHAT WILL WE DISCUSS?
The overall theme of the day will be "Collective Intelligence" and we will focus on:
1. Material innovations
2. Circularity, Transparence & Traceability
3. Purpose led organisation & Inclusion
------------------------------------------------------------------------
🌞 DAYTIME PROGRAM
12pm > The Great 2020 Unlearn with Aditi Mayer - photo journalist and Isabelle Lefort - founder of Paris Good Fashion
12.30pm > The Techstyle Revolution with Christine Goulay - global director at Pangaia, Ramin Ahmari - founder of Finesse, Patrick Duffy - founder of Global Fashion Exchange, Olga Chernysheva - head of sustainability at DressX, moderated by Nora Gherbi - founder of WHo CAREs!? Chronicles
1.30pm > Networking Lunch on LA CASERNE Rooftop
2.30pm > Breakout workshops rooms -
1. Material Innovations presented in partnership with Chargeurs PCC featuring Aurélia Vigouroux - business development at Chargeurs PCC, Benjamin Eymère - CEO of magazine L'Officiel, moderated by Amanda Johnston - curator of Future Fabrics Expo. The workshop will be followed by a walk through the Future Fabrics Expo Innovations hub
2. Transparency & Traceability in partnership with Arianee featuring Rym Trabelsi - founder of ClearFashion, Luca Comparini - head of blockchain at IBM France, Lucca Lamoine - founder of Verlan, moderated by Nina Caput - head of business development at Arianee
3. Circularity in partnership with Weturn and Vestiaire Collective featuring Sophie Pignères - founder of WeTurn, Marie Lescure - project director at Veepee, Dounia Wone - chief sustainability & inclusion officer at Vestiaire Collective, Delphine Eddé - co-founder & partner at Arianee, moderated by Evelyne Mora - founder of Digital Village
4. Purpose-led organisations in partnership with Aigle featuring Orsola De Castro - founder of Fashion Revolution, Camille Vever - founder of Vever, B-corp, Sandrine Conseiller - CEO of Aigle, Barbara Coignet - founder of 1.618 Paris, Elisa Niemtzow - vice president at BSR, moderated by Céline Dassonville - founder of Ethiwork
4.15pm > Screening Eco-Age's documentary Fashionscapes: Circularity
4.30pm > Sustainable Value Chains with Helene Crowley - head of sustainable sourcing and nature at Kering, Isabelle Delannoy - author and PhD, Camille Le Gal - co-founder of Fairly Made, Ayesha Barenblat - founder of Remake Our World and the #PayUp campaign, moderated by Sarah Kent - Business of Fashion
5.30pm >How to Embed your Sustainability and Regenerative Strategy with Sara Sozzani Maino - deputy director Vogue Italia and head of Vogue Talents, Gaël Audier & Hélène Revat-Dontenwill - creative director & strategic planner at Pixelis
6pm > Cocktail reception on LA CASERNE's rooftop
----------------------------------------------------------------------
🌙 EVENING SHOW
6:30pm > Time For The Planet show "How would you innovate with 1 billion euros?" with Cédric Villani - politician and mathematician, Corinne Lepage - former minister of ecology in France, Thanh Nghiem - engineer and author, Mehdi Coly & Coline Debayle - co-founders of Time For The Planet
8.30pm > Voguing dance class with Nick V from la Mona Paris
This is the first day of three at The Conscious Festival held in Paris, with gatherings in Singapore and London, and a virtual experience for the rest of the world. Get all the details on our website here.
----------------------------------------------------------------------
✨ PARTNERAIRES
Organised by - Green Is The New Black
Venue Partner - LA CASERNE
Founding Partner - Kering
Venue Partner - The Mills Fabrica
Brand Partner - Aigle
Event Partner - Pixelis
Event Partner - Back Market
Event Partner - Vestiaire Collective
Launch Partner - Time For The Planet
Innovation Partner - Weturn
Innovation Partner - Good Fabric
Innovation Partner - Arianee
Innovation Partner - Chargeurs PCC
Event Partner - The Woolmark Company
Event Partner - Fairly Made
Strategic Partner - Ethiwork
Strategic Partner - WHo CAREs!? Chronicles
Partner - A.D.R
Media Partner - So Good
Media Partner - Pioche!
Media Partner - The Good Goods
Media Partner - Radio Capsao