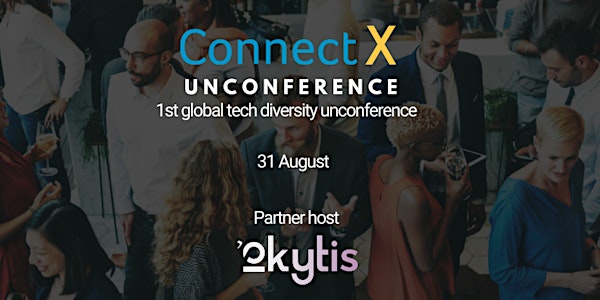 ConnectX Unconference : A Global Approach to Decentralization and Equality
ConnectX Unconference is a Conference where people to shape future of education and work.
When and where
Location
Tomtebogatan 5 Tomtebogatan 5 Stockholm, Sweden 113 39 Stockholm Sweden
About this event
A Global Approach to Decentralization and Equality
How do we connect the Scandinavian Tech Ecosystem with the world?
Any rising start-up has the potential to be global, and the consumer landscape must be embraced and validated within a company. Access, preferences, and dependability are constantly evolving with the customer base rapidly changing. To keep up with demand and competitive advantage, Scandinavian businesses must adopt an inclusive model and be open to ideas, knowledge, perspectives, approaches, and styles to maximize their potential.
The ConnectXGlobal on August 31, 2022, allows discussion and networking to bridge the gap between Scandinavia & the rest of the entrepreneur world. Learn from experts in their field who are actively cultivating cultures, retaining talent, having higher productivity, engaging with a more extensive customer base and producing innovative solutions. Be one of the few exclusive attendees at our event in Stockholm.
Now more than ever, being global and remote is the new paradigm.
TOPICS INCLUDED
Hear from experts and active professionals on topics ranging from:
A global approach to decentralization and equality.
How do we create an inclusive economy?
How can underrepresented communities raise capital?
How can Sweden be the next tech Power House?
AGENDA
August 31st
After Work - 6 pm - 9 pm
T5 Community - Tomtebogatan 5, 113 39 Stockholm, Sweden
SPEAKERS :
Bacely YoroBi is the CEO of ConnectX Global.
With ten years of community building experience, angel, tech activist and business angel. Learn more about Bacely here: Bacely YoroBi: Helping You Succeed your growth Through Diversity
Maryem Nasri is the CEO of Okytis, a project manager, change manager and marketer. Today she is Chairman of the nomination committee for Black Lives Matter Sweden and holds a position on the nomination committee for the Feminist Party in Stockholm City. She is also involved in issues related to Equality and anti-racism.
INCLUSION:
This event is an accessible environment where everyone is safe and included.
ConnectX Unconference is a disruptive space for people across every gender, race, ethnicity, religion, country of origin, and sexual orientation.
See you in Stockholm!