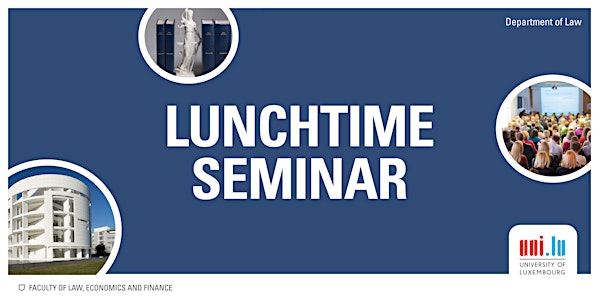 Companies, human rights and environmental standard: new EU initiatives
New EU initiatives requiring companies to address human rights and environmental standards within their value chains
About this event
Speaker
Maître Karima Hammouche, Bar of Luxembourg, Etude Hammouche, European Environmental Bureau
Maître Anne Jonlet, Brussels representative for AVOCATS.BE and the Bar of Luxembourg
Abstract
In the context of climate change, globalised neoliberal capitalism - which dominates social relations in Europe and many other States - is increasingly being challenged. The pursuit of immediate profit maximisation for business owners alone is under attack from those who want to ensure the long-term survival of economic activity and the environment in which business operates. Sustainable development is now a goal that companies can no longer ignore. National and international jurisdictions are becoming increasingly bold in enshrining corporate responsibility but the current international standards and legislative frameworks are insufficient to achieve sustainability. It is in this context that the European Commission has published in February 2022 a proposal for a directive on corporate sustainability due diligence. This context and the content of the proposed European directive will be presented to you on 19 October 2022.
Biographies
Karima is a member of the Luxembourg Bar and a founding partner of the law firm HAMMOUCHE. She specialises in national and international litigation, with a particular focus on environmental disputes, insolvency law and family law. Karima is very active in the environmental field. She is a member of the EEB (European Environmental Bureau)/Working Group on Law and is the appointed expert of the Luxembourg Bar in the CCBE (Council of European Bars) Committee on Corporate Social Responsibility. She is editor-in-chief of the law review Jurisnews Droit de l'Environnement.
Anne has been a member of the Brussels Bar since 1992 and was a member of the Frankfurt Bar from 1996 to 2007. After 15 years of practicing Belgian, German and European business law, she was entrusted as a representative by the French-and German-speaking Bars of Belgium (AVOCATS.BE) and the Luxembourg Bar in connection with the opening of a joint liaison office with the European institutions. Since 2020 she is in charge of the sustainable development commission of AVOCATS.BE and, since 2022, she accompanies AVOCATS.BE in its UNITAR certification process in sustainable entrepreneurship.
https://wwwde.uni.lu/fdef/aktuelles/companies_human_rights_and_environmental_standard_new_eu_initiatives
Sustainability Lunchtime Seminars: Where Environmental Law Meets Economic Law
Objective: Our sustainability lunchtime seminars will create a venue to study the interaction between EU environmental law and EU economic law. In light of the European Green Deal framework, our objective is twofold. On the one hand, we intend to analyse how economic law could evolve to better integrate environmental rules, principles, and objectives. On the other hand, we intend to examine how environmental law could better address economic-law challenges and realities. To reach sustainability and meet EU Green Deal objectives, there must be a close interaction between environmental law and economic law; for now, these two disciplines have very different scopes and functions.
Methodology: Through our selection of topics and speakers, we intend to find new channels of connection between EU environmental law and EU economic law. To do so, we will combine two approaches. Through a substantive approach we will focus on the correlation between environmental law and specific economic policies, for example, consumer law, competition law, investment law, corporate law, trade law, and finance. By means of a sectoral approach will examine specific topics that demand integration between environmental and economic law (e.g., 5G, and deforestation).
Format: Our online lunchtime seminars will be held once a month throughout 2022 from 12:30 to 13:30 (Luxembourg time) and include presentations given by young researchers, renowned professors, and expert practitioners. Our working language will be English. All interested people, both within and without academia, are encouraged to attend our online seminars.
Output: EU Law Live will publish two Weekend Editions (one in July and the other in December 2022), setting out the key ideas and main proposals arising out of our Sustainability Lunchtime Seminars.
Organisation: Alessandra Donati, Postdoctoral Researcher at the University of Luxembourg and Attorney at Law in Italy and France will organise our Sustainability Lunchtime Seminars. She can be reached at alessandra.donati@uni.lu.
In collaboration with the Belgio-Luxembourg Hub of ELI (European Law Institute) and ALDE (Association Luxembourgeoise pour le droit de l'environnement).
EU Law Live will be the media partner of the Sustainability Lunchtime Seminars.
Click here to find out more about our Sustainability Lunchtime Seminars.