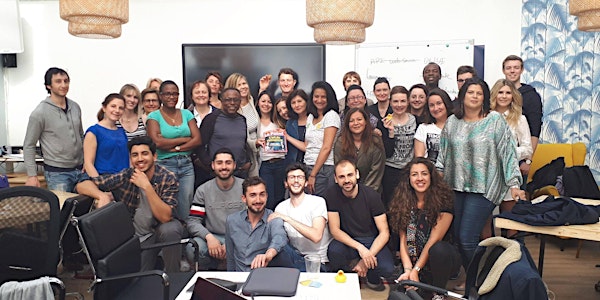 [CODING WEEK] Pré-booking - Paris
Date and time
Mon, 16 Jul 2018 09:30 - Fri, 20 Jul 2018 18:00 CEST
Location
Schoolab 21 Rue de Cléry 75002 Paris France
Refund Policy
Contact the organiser to request a refund.
Description



Créer son site internet en une semaine, c'est possible !
Coding Days est une startup spécialisée dans la formation au code et vous propose un bootcamp d'une semaine pour créer de A à Z votre site internet. Il s'agit d'une occasion unique de profiter de notre pédagogie innovante et de nos experts prêts à répondre à toutes vos questions et à vous aider à aller plus loin !



Informations pratiques :
Pour qui ? tous les professionnels qui souhaitent développer LEUR site internet avec LEURS visuels et LEURS idées mais les galères en moins ! Nous vous accompagnons durant 5 jours pour concrétiser votre projet et lancer votre site internet complètement fonctionnel.

Comment ? En présentiel et grâce à des mentors experts du code. Vous bénéficiez d'un accompagnement personnalisé avec 1 mentor pour 3 participants.

Où et quand ? A Paris dans les locaux du Schoolab (rue de Cléry), du 16 au 20 juillet 2018.


Pour quel prix ? Prix initial de 1999€ TTC et réduction de 20%, soit 1665€.

Plus d'info ? Contactez-nous par email sur contact@coding-days.com ou au 06 22 21 42 15.


Offre spéciale :
1 site fonctionnel conçu par vos soins de A à Z ! Nous vous accompagnons durant 5 jours pour construire VOTRE site internet suivant VOS besoins, VOS idées et VOS visuels.

Finis les frais de prestataire et de maintenance ! Grâce à la formation, vous serez complètement autonome sur votre site internet et pourrez le faire évoluer dans le temps suivant vos envies.

Un esprit d'équipe et de collaboration ! Après la formation, vous avez accès à notre communauté Coding Days pour continuer à échanger entre élèves mais aussi avec les mentors.

20% de réduction ! Pour toute inscription avant le 15 juillet, bénéficiez de 20% de réduction soit la semaine de formation à 1665€ TTC (prix initial de 1999€ TTC).

Testez le concept ! En vous inscrivant, vous bénéficiez de la journée "Comprendre le code et les développeurs" gratuitement (le 7 juillet 2018).

1 mentor pour 3 participants ! Pour un accompagnement optimal et une avancée rapide.

Pré réservez maintenant ! Afin d'être certain de profiter de la réduction du mois de juin, préréservez maintenant au 06 22 21 42 15.

#codeleweekend
#parleatoncanard
About the organiser
Coding Days est un organisme certifié qui propose des formations ludiques et accessibles pour apprendre à coder et naviguer dans le digital ! #Cybersécurité #Blockchain #DesignThinking #MéthodesAgiles #DataScience
Plus d'informations sur notre site : www.coding-days.com