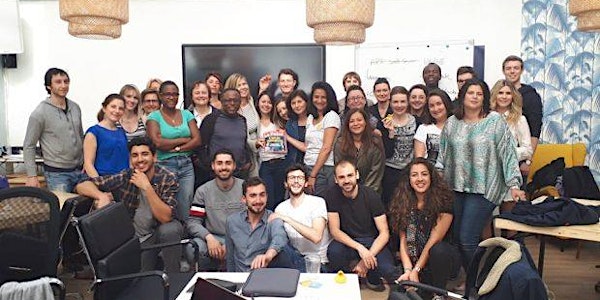 [CODING DAY] Comprendre le code et les développeurs en 1 jour ! - Paris
Date and time
Sat, 1 Dec 2018 09:30 - 17:30 CET
Location
Schoolab 21 Rue de Cléry 75002 Paris France
Refund Policy
Contact the organiser to request a refund.
Description
Tu as envie d'apprendre à coder, mais l'univers du digital te paraît trop vaste ?
Tu as besoin d'un développeur, mais il te manque le vocabulaire technique pour lui parler ?
Tu veux développer ton projet, mais le code c'est un remake des Dents de la mer pour toi ?

Alors, n'hésite plus futur matelot et rejoins l'équipage de Coding Days pour participer à une journée intense de formation au code !

Ce que tu sauras faire après cette journée
▷Tu comprendras ce qu'il y a derrière un site internet ou une application mobile
▷Tu apprendras à penser comme un développeur
▷Tu écriras tes premières lignes de code en HTML et CSS
▷Tu créeras ta première page web !

4 bonnes raisons de te former
1) Une formation en présentiel
2) 1 mentor pour 5 participants
3) Une pédagogie interactive unique
4) Du learning by doing qui favorise la pratique

-> Je m'inscris sur le site internet

Date : 1er décembre
Horaire : 9h30 - 17h30
Lieu : Le Schoolab, 21 rue de Cléry, 75002, Paris
Prix : 129€

Une question ? N'hésite pas à nous appeler au 01 84 19 48 59 !

Tu n'es pas disponible pour cette session mais tu veux savoir quand les prochaines formations auront lieu ?
-> Choisis d'embarquer dans la formation de ton choix en te rendant sur notre site web : www.coding-days.com !
About the organiser
Coding Days est un organisme certifié qui propose des formations ludiques et accessibles pour apprendre à coder et naviguer dans le digital ! #Cybersécurité #Blockchain #DesignThinking #MéthodesAgiles #DataScience
Plus d'informations sur notre site : www.coding-days.com