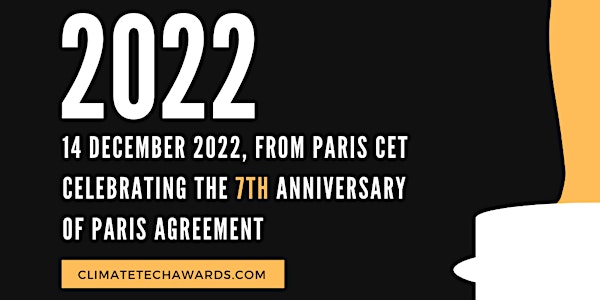 CLIMATE TECH AWARDS I Nominees Ceremony I 14 Dec 2022 CET, Hybrid StudioTV
ClimateTechAwards 2022 I Official Ceremony for Nominees
Refund Policy
Contact the organizer to request a refund.
Eventbrite's fee is nonrefundable.
About this event
4 hours 30 minutes

Mobile eTicket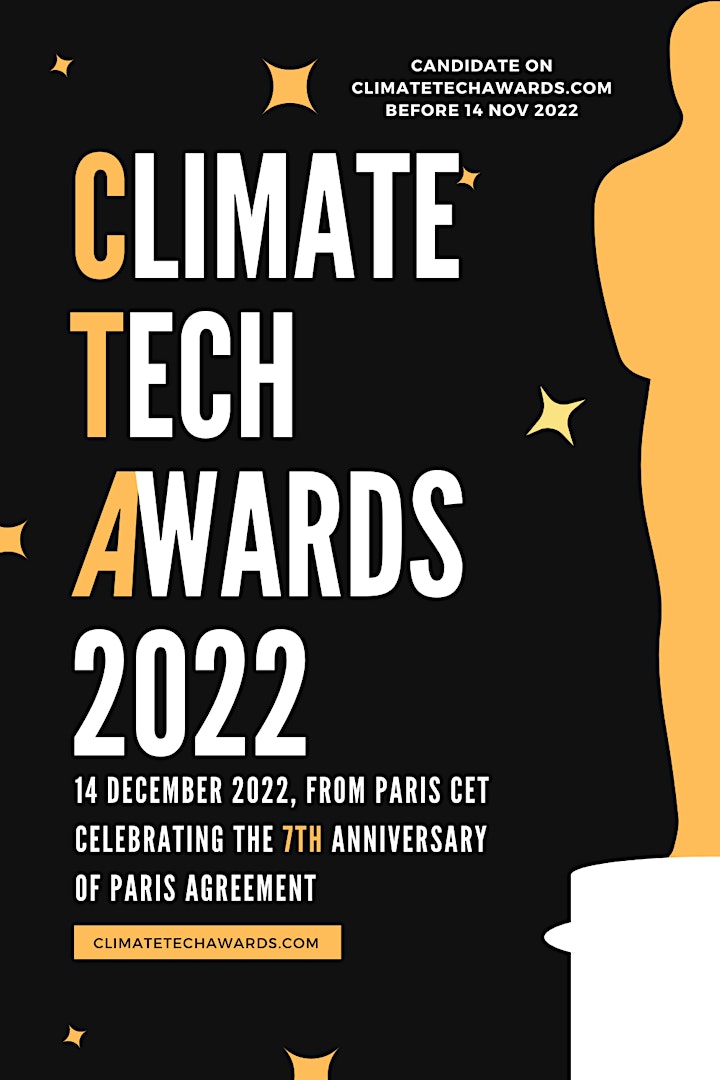 CLIMATE TECH AWARDS (CTA)
14 Dec. 2022, 2-6pm CET Paris, From StudioTV
Special 7th Anniversary Paris Agreement
"1st Democratic-Vote" Awarding Climate & Technology.
Just be part of our augmented & democratic JURY, and VOTE with our International & Distiguish Members.
Mission: scaling the global & inclusive climatetech ecosystem for healthier GDP!
-------------------------------------------------
EDITO
"The Climate Investments of Today are the Climate-related Peace & Security of Tomorrow"
ClimateTech, the core engine for a NetPositive Planet
Dear Friends, Climate Leaders, Champions, Advocates, Dear All Stakeholders,
Our Editorial line is playing in a context to align leaderships and decision makers to produce Healthier GDPs. Towards "GreenDeal(s) x ClimateTech x Climate Finance", the common needs, interests, and horizon are delivering the Paris Agreement in time. Contributing for a maximum "Peace & Security for the Planet & Humanity" in this XXI Century is all about this.
For CLIMATE TECH AWARDS, our mission goes beyond an Awards approach. Solving in time the "Climate Equation" is solving today the "Investment Equation". That's why we want to create a special ClimateTech Momentum 2022 for investments, by accelerating ClimateTech Applicants and Nominees Funding.
To go-ahead in this task, we already invite the ClimateTech stakeholders to join a global community working for "THE WHY", "THE KOWLEDGE","THE KNOW-HOW", by building "THE WHO" with the ClimateTech FOUNDATION:
For Corporates and Entrepreneurs, it is all about staying or becoming the next Leaders in your fields.
For Investors, it is all about funding Today your stream-revenue for Tomorrow, that aligns portfolios' performance.
For Public Policies Makers, it is all about how co-designing our acceptable and inclusive reforms to support these geopolitical targets, by maintaining the global warming at 1.5-2°C for a livable Planet.
CTA 2022 are a must invitation for Public & Private Organizations: States, Cities, Regulators, Capital Markets, Operators, Industries, Academics and NGOs. Everyone is concerned to make things change. Join forces, for an overview effect, by these two sides of the same coin.
Let's build this incredible bridge to accelerate the Future for a Net Positive Planet!
-------------------------------------------------
Nominees among 8 categories of ClimateTech
CLIMATE ENTREPRENEURs I Your are the next HEROs !!!
Book your Pack to pitch & accelerate (funding, business, hiring talents), with qualified participants, as Climate Leaders (VCs, Corporates, Institutions & Talents)
Energies Mix & LowCarbon industries (including CCS/CCUS)
AgriFood for Sustainable Biodiversity, LandUse & Sovereignty
Digital, Space & Climate Finance for Earth System & Risk models
Cities for Smart & Sustainable Building & Mobilities
Hydrogen Sector and Related Applications
Women in Climate & Tech, for Africa & Middle East
Manufacturing & Circular Economy (Goods & Products, Fashion, Decision & Luxury)
(e)Commerce, SupplyChain, Travel & Events
-------------------------------------------------
AUDIENCE
Join to push your frontiers of practice I Earn decision makers opportunities
Profils as: Venture Capital, Fund Managers, Asset Owners and Managers, Board Directors, Facility Offices, Bankers, Insurers, Chief Climate Officers, Chief Finance Officers, Chief Risk Officers, Chief Information Officers, Chief Sustainability Officers, Senior Executives, Investment Specialists, Insurance Specialists, Business and Corporate Finance Advisors & Planners, Chartered Accountants & Analyst, Economists, Tax Experts, Lawyers, Scientific & Academic Experts & Students, NGOs and Policies Makers who are currently engaged or will be engaged, whether directly or indirectly, in the Green Transition process.
Broadly all Talents involved or eager to join a Climate Career-related, as a path mission driven.
-------------------------------------------------
CONTACT
contact@climatetechawards.com
contact@climatetechventure.com
-------------------------------------------------
SUPPORTED BY PUBLIC & PRIVATE PARTNERS
& INTERNATIONAL STAKEHOLDERS (among them)
www.climatetechventure.com
www.climatetechfoundation.org
www.climatetv.org