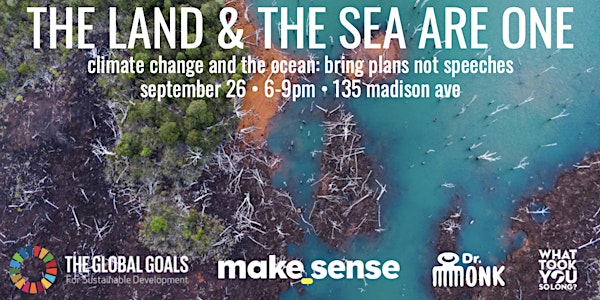 Climate & Ocean Action
CONCRETE ACTION FOR CLIMATE CHANGE AND THE OCEAN
When and where
Location
WeWork 135 Madison Avenue New York, NY 10016
About this event
The ocean, the very force that sustains life on earth, is at the cusp of catastrophe due to climate change and other human threats.
Rising CO2 levels and Green House Gas emissions have disproportionately impacted the ocean - resulting in increased temperatures, acidity, and deoxygenation. These forces limit the ocean's ability to perform vital functions like producing the oxygen we breathe, regulating climate and supporting the greatest abundance of life on Earth.
How can our actions on land regenerate this critical ecosystem? What are adaptive solutions for communities experiencing sea level rise? How can we collectively motivate a sustainable future on land and at sea?
Come discover and join a community of citizens, policy makers, social entrepreneurs, global non-profits and corporates co-creating solutions for our climate and to revive the ocean.
In this interactive session, after a panel discussion, guests are invited to contribute!
_____________
Agenda
Photo Story: Climate and Ocean Scientist expeditions in the artic - Andreas B. Heide
Panel discussion: collective action presentations with climate and ocean experts
- Ah-Hyung (Alissa) Park is the Lenfest Chair in Applied Climate Science of Earth and Environmental Engineering, Chemical Engineering at Columbia University
- Eirik Lindebjerg, Global Plastic Policy Manager, WWF. Eirik leads WWF international's policy work for stopping all leakage of plastics into the ocean as part of WWFs new global No Plastic In Nature Initiative
- Kiran Jandu, UN Nippon Fellow, co-initiator of WeOcean, previously worked in finance and corporate social responsibility at JPMorgan
- Meghann Jones, Senior Vice President at Ipsos, bringing Ipsos' evidence and expertise to contribute to public dialogue on important global trends and give voice to citizens and consumers
Artistic performance: BraceBryans - Activist, Poet and spoken word artist
Unconference in small groups: propose an ocean and / or climate related topic or project you would like to discuss
Networking and film presentation: Great Unifier (Ocean) and WATTIF (Climate) documentaries
_____________
This event is part of the WEWORK / Great Village series of event during United Nations Global Goals / Climate Week in New York it is organized by :
- makesense: a global non-profit to mobilizing citizens to solve the global goals
- Dr Monk: a creative social innovation agency based in Amsterdam and Ghana
- What Took You So Long: a collective of filmmaking humans breaking down invisible borders one film at a time