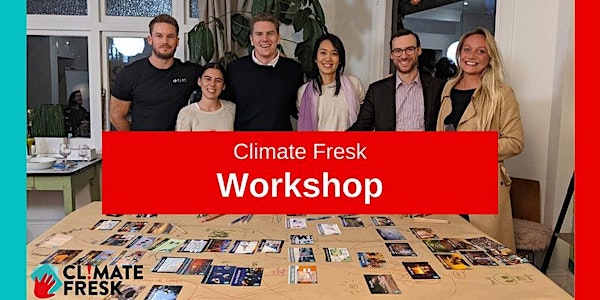 Climate Fresk Workshop - USA
"The Climate Fresk" is a fun, participatory and creative workshop on climate science and solutions. Formally known as Climate Collage.
Refund Policy
Refunds up to 1 day before event
About this event
« The Climate Fresk» is a workshop conceived in France (now played around the world in 25 languages!), that aims to raise awareness and understanding among people about climate change. Formally known as Climate Collage.
Since 2018, this workshop has been played by 180k participants, facilitated by 6k citizen facilitators and is exponentially growing (#s from July 2021).
Based on the UN backed and Nobel Peace Prize award winning IPCC report, it explains how the climate functions and the consequences of its disruption. It gives the opportunity to learn a lot in a very short period of time and addresses both novices and experts.
Participant Testimony:
"It's one of the best tools I've seen for taking people at the earliest parts of their journey on understanding climate change through a journey of understanding the causes and effects, as well as how they interlink and what we can do about it as individuals and communities.
If you know very little about sustainability and climate change - this workshop is for you.
If you know loads about it, but want to learn to communicate the issues better to other people, this workshop is for you."
That's how the game works:
The workshop is based on a 42-card game. Each card represents an element, a cause or a consequence of climate change.
As a team, guided by your facilitator, you are to find the cause-effect relationship between the different components of climate change. Collective intelligence will get you from one deck of card to the next!
This step-by-step reconstruction provides keys to understand the complexity and develop an overview of climate change.
The workshop's program:
- A Brief History Of "The Climate Fresk"
- Icebreaker
- Reconstruction of the Climate Fresk guided by your facilitator
- A little pause in between if needed
- Creative phase
- Debrief + time to share, express thoughts and feelings
REMEMBER: The workshop takes place online, a good internet connection is necessary.
Practical information:
Make sure to have installed the zoom.us software, which will be the workshop's communication platform.
You will receive an email with all the technical information you need, including the link to join the meeting two days and one minute before the workshop starts.
Please take your ticket only if you are sure that you can make it !
Pricing:
There are three tiers of pricing(done by means) to ensure that this essential information gets to everyone, no matter your means, but still ensure our mission has the funds necessary to continue.
Professionals, whose company is paying, have a higher rate, this enables us to then offer the workshop at a reduced rate for others. A business receipt can be provided upon request (please contact unitedstates@climatecollage.org). We appreciate in advance your understanding and support.
There is a reduced rate for students and those with reduced means. If the workshop is still too expensive for you, contact us : unitedstates@climatecollage.org Everyone deserves this essential knowledge. This is our core mission.