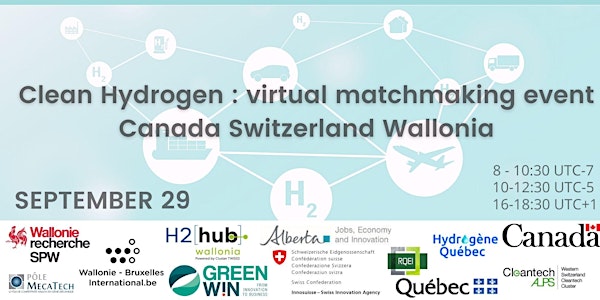 Clean hydrogen: virtual matchmaking between Canada Switzerland and Wallonia
Clean hydrogen: virtual matchmaking event between Canada Switzerland and Wallonia
About this event
WBI's science and technology offices in Canada and Switzerland, SPW-EER, GREENWIN, the TWEED cluster, the MecaTech Cluster in collaboration with the National Research Council of Canada, the Ministère de l'économie et de l'innovation du Québec, the Alberta Ministry of Jobs, Economy and Innovation, Innosuisse and Cleantech Alps invite you to the virtual networking event dedicated to Clean Hydrogen Technologies
The event will be held via Zoom on September 29th (8am UTC-7/ 10am UTC-5 / 4pm UTC+1) in the presence of professionals and experts of hydrogen technologies in Switzerland, Canada (Quebec/Alberta), and Wallonia. If the main theme will focus on hydrogen, a specific focus will be put on the means of exploitation of hydrogen, namely distribution, production and storage.
The program is the following :
10.00 – 10.20 : OVERVIEW of the EUREKA AND EUROSTARS PROGRAMME
- Eric Holdrinet - National Research Council Canada
- Colette John - InnoSuisse
- Fabrice Quertain - SPW Research (Wallonia)
10.20 – 11.12 : R&D COLLABORATION OPPORTUNITIES (4-min pitches)
10.20 : C-Therm Technologies - Adam Harris (Canada)
10.24 : Certech - François Collignon (Belgium)
10.28: EH Group Engineering - Chris Brandon (Switzerland)
10.32: Enerkem - Esteban Cornet (Canada)
10.36: Greenfield - Jean Roberge (Canada)
10.40: GreenGT - Frederic Veloso (Switzerland)
10.44: H2WIN - Philippe Lorge (Belgium)
10.48: HiFi Engineering - Ehsan Jalilian (Canada)
10.52: John Cockerill - Zineb Seghrouchni (Belgium)
10.56: MateriaNova - Frederic Haase (Belgium)
11.00: McGill University - Jeffrey Bergthorson (Canada)
11.04: MobyFly - Sue Putallaz / Anders Bringdal (Switzerland)
11.08: Proton Technologies - Setayesh Afshordi (Canada)
11.12: SoHHytec - Tembhurne Saurabh (Switzerland)
11.12 – 11.20 : CONCLUSION & NEXT STEPS
Gilles Colson – Greenwin Cluster
11.20 – 12.30 : NETWORKING SESSION
Thematic breakout sessions (organised and moderated discussions to build R&I project consortia based on the pitch session)
Breakout Room 1: Hydrogen production
Breakout Room 2: Hydrogen storage & distribution
Direct B2B meetings amongst participants
PRACTICAL INFORMATION - Once you complete your registration on Eventbrite, you will automatically receive the confirmation and the link to connect to the webinar via Zoom. If for any reason you do not receive the zoom link, please contact Cédric Capette (c.capette@wbi.be)
----------------------------------------------------
Les bureaux scientifiques et technologiques de WBI au Canada et en Suisse, le SPW-EER, GREENWIN, le cluster TWEED, le Pôle MecaTech en collaboration avec le Conseil National de Recherches au Canada, le ministère de l'économie et de l'innovation du Québec, le Alberta Ministry of Jobs, Economy and Innovation, Innosuisse et Cleantech Alps vous invitent à l'activité de maillage virtuel dédiée aux technologies d'Hydrogène propre.
L'évènement sera organisé sur Zoom le 29 septembre (8h UTC-7/ 10h UTC-5 / 16h UTC+1) en présence de professionnels et d'experts des technologies liées à l'hydrogène en Suisse, au Canada (Québec/Alberta), et en Wallonie. Si la thématique principale se concentrera sur l'hydrogène, un focus spécifique sera porté sur les moyens d'exploitation de l'hydrogène, à savoir la distribution, la production et le stockage.
Il sera prévu au programme :
- Une série de pitchs de sociétés, PME, centres de recherche et universités du Canada, de la Wallonie et de la Suisse
- Des ateliers spécifiques pour mettre en place des projets R&I internationaux avec vos futurs partenaires
- Des sessions B2B's informelles de réseautage entre les participants et les speakers, sur les possibilités de collaborations
- Des présentations conjointes pour introduire les programmes EUREKA/Eurostars mais aussi sur les opportunités des mécanismes de financement au Canada, en Wallonie et en Suisse
INFORMATIONS PRATIQUES - Une fois votre inscription terminée sur Eventbrite, vous recevrez automatiquement la confirmation et le lien pour vous connecter au webinaire via Zoom. Si pour une raison quelconque vous ne recevez pas le lien Zoom, veuillez contacter Cédric Capette (c.capette@wbi.be)