Description
Two CFEngine training courses in San Francisco in January 2016
CFEngine Fundamentals (3 days) - English

12, 13 and 14/01/2016

Learn CFEngine from scratch with a very hands-on approach, introducing concepts one by one. This three day course will give you full understanding of all the building blocks you need to use CFEngine, and explain the theory behind system automation as we go. No previous experience necessary, although basic Linux sysadmin skills are necessary.

--
CFEngine 3.6 | 3.7 | 3.8 refresher (1 day) - English

15/01/2016
Take one day to update your CFEngine knowledge and learn the latest and greatest features, complete with real-life examples. This short course will show you how to use and benefit from latest changes and clarify upgrade paths. Designed for anyone with previous CFEngine experience or training. Our trainer will be happy to help you brush up on the basics if necessary too!

---
Reductions for several attendees and larger groups available on request.
---


Don't leave empty-handed!
In addition to electronic course materials and samples, each attendee will be given a free printed copy of the O'Reilly "Learning CFEngine 3" book!
Don't forget your CFEngine certificate to pin on the wall over your desk ;)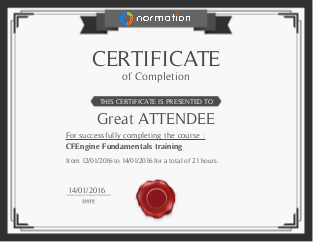 ---
Normation - Strong CFEngine experts to help you grow

As the CFEngine partner since 2009, Normation provides training courses in USA on the subject of the configuration management tool CFEngine 3, on behalf of it's editor, CFEngine AS.
Our training program and handouts were created by our CFEngine Community Champions. All courses are given by a trainer who is a recognized CFEngine expert and has received training certification from CFEngine AS.
---


Cancellation policy

* If for any reason the training course is cancelled by Normation, we will reimburse you fully.
* If you choose to cancel your attendance, we will reimburse you a percentage of the original amount, depending on the time remaining before the event. This is to ensure that we can honor agreements already made for renting a venue, hotels and travel, as I'm sure you'll understand. The different rates are as follows:
o Cancellation _more than 30 days_ before the event: we will reimburse 90% of the fee, and retain 10% for management costs (including credit card processing and other fees out of our control).
o Cancellation _between 15 days and 30 days_ before the event: we will reimburse 50% of the fee.
o Cancellation _less than 15 days_ before the event: we will retain the full fee, with no reimbursement, as this leaves us very little time to reorganize or find extra attendees to cover our expenses.