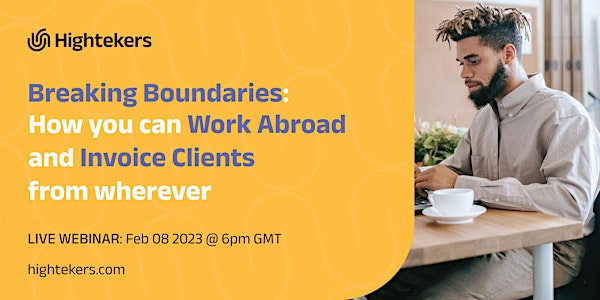 Breaking Boundaries: How you can Work Abroad and Invoice Clients from where
Learn how to take your IT freelance business international in 2023.
When and where
Date and time
Wed, 8 Feb 2023 10:00 - 11:30 PST
About this event
One of the perks of being a freelancer is having the freedom to work from anywhere. But the reality of taking your business international can be a time-consuming and complicated process. And not to mention costly.
Learn the secret to expanding your IT freelance business worldwide. Without hassle.
Join us on Wednesday February 8 at 6PM GMT as Giorgio Librasi, our mobility expert, clears a path through the murky waters of European mobility and provides a solution to help you grow your business and work from the location you wish.
Come prepared with all of your European mobility questions and get ready for a great discussion!
Who should join this webinar?
IT freelancers who are looking to:
Move abroad and keep their clients
Start invoicing international clients
Improve their income
Say goodbye to tedious admin work
What will you learn?
Attendees will leave the webinar with a deeper understanding of:
How to move to a European location of your choice
The different legal statuses for freelancers and which is the right one for you
How to navigate new tax regulations in Southern Europe to attract highly qualified digital talent
How the Hightekers team can help you expand your business internationally in 2023
Meet our speaker, Giorgio Librasi:
Giorgio supports and advises freelancers from the IT sector in the growth and international expansion of their business. Giorgio identifies the needs of each consultant in order to offer them a personalized solution that allows them to improve and grow their business. From the location they wish.