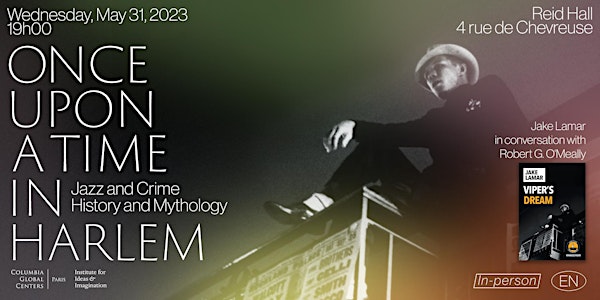 Book Launch | "Viper's Dream" with Jake Lamar
Jazz and crime, history and mythology with Professor Robert G. O'Meally and writer Jake Lamar.
By Columbia Global Centers | Paris
Date and time
Wednesday, May 31 · 7 - 9pm CEST
Location
Reid Hall 4 Rue de Chevreuse 75006 Paris France
About this event
Columbia Professor Robert G. O'Meally and writer Jake Lamar discuss the author's latest work, VIPER'S DREAM, a crime novel set in the jazz world of Harlem between 1936 and 1961.
About the book
Viper's Dream is a fast-paced story that is charged with suspense. A snappy, provocative voice and a stark look at Viper's Black American experience weave with endless plot twists to offer readers a stunningly original, achingly beautiful read.
Harlem, 1936. Clyde "The Viper" Morton boards a train from Alabama to Harlem to chase his dreams of being a jazz musician. When his talent fails him, he becomes caught up in the dangerous underbelly of Harlem's drug trade. In this heartbreaking novel, one man must decide what he is willing to give up and what he wants to fight for.
For fans of Colson Whitehead and Chester Himes, Viper's Dream is a gritty, daring look at the vibrant jazz scene of midcentury Harlem, and one man's dreams of making it big and finding love in a world that wants to keep him down.
"Laced with a stiff shot of politics, romance and jazz, Viper's Dream is moody, poetic and immersing." - Deborah Levy
"A pure, true Jazz Noir Classic." - David Peace
"Dark poetics, magical prose and meticulous storytelling - Viper's Dream is way more than a crime novel. It is an intriguing seduction. A revelation." - Stephen Mack Jones, author of the August Snow series
Speakers
Jake Lamar was born in 1961 and grew up in the Bronx, New York. After graduating from Harvard University, he spent six years writing for Time magazine. He has lived in Paris since 1993 and teaches creative writing at one of France's top universities, Sciences Po. He is the author of a memoir, seven novels, numerous essays, reviews and short stories, and a play. His most recent work, Viper's Dream, is both a crime novel and an audio drama, set in the jazz world of Harlem between 1936 and 1961. He is a recipient of the Lyndhurst Prize (for his first book, Bourgeois Blues), a prestigious Centre National du Livre grant (for his novel Postérité), France's Grand Prize for best foreign thriller (for his novel The Last Integrationist), and a Beaumarchais fellowship for his play Brothers in Exile. He is currently working on a memoir about his life in Paris.
Robert G. O'Meally is the Zora Neale Hurston Professor of English and Comparative Literature at Columbia University, where he has served on the faculty for twenty-five years. The founder and director of Columbia's Center for Jazz Studies, O'Meally is the author of The Craft of Ralph Ellison, Lady Day: The Many Faces of Billie Holiday, The Jazz Singers, and Romare Bearden: A Black Odyssey. His edited volumes include The Jazz Cadence of American Culture, Living With Music: Ralph Ellison's Essays on Jazz, History and Memory in African American Culture, The Norton Anthology of African American Literature (co-editor), and the Barnes and Noble editions of Mark Twain, Herman Melville, and Frederick Douglass. For his production of a Smithsonian record set called The Jazz Singers, he was nominated for a Grammy Award. O'Meally has co-curated exhibitions for The Smithsonian Institution, Jazz at Lincoln Center and The High Museum of Art (Atlanta). He has held Guggenheim and Cullman Fellowships, and was a recent fellow at Columbia's new Institute for Ideas and Imagination at the Global Center/Paris. His new books are The Romare Bearden Reader (edited for Duke University Press, 2019) and Antagonistic Cooperation: Collage, Jazz, and American Fiction (Columbia University Press, 2020).
About the organizer
For nearly sixty years, Columbia University students and faculty have come to study, teach, and pursue their research at Reid Hall, an educational hub at the forefront of international education and cultural exchanges.
Today, Reid Hall is the home of several Columbia University initiatives: Global Centers | Paris, Undergraduate Global Engagement, Masters in History and Literature, and the Institute for Ideas and Imagination. This unique combination of resources is enhanced by the Center's global network whose mission is to broaden the University's engagement with the world through educational programs, research collaborations, regional partnerships, and public programming that addresses pressing global issues.