winter retreat - singing, meditation, good food and wellbeing Limousin Fran...
Informations sur l'événement
Adresse
De Tout Coeur Limousin
Soumeix
23460 Royère-de-Vassivière
France
Politique de remboursement
Politique de remboursement
Description de l'événement
Description
WINTER SINGING RETREAT
11-14 January 2019
Join us for our winter singing retreat in the heart of rural Limousin, central France. Take time for the simple pleasures & nurture your creativity & well-being.
Take the time to slow down and enjoy the simple pleasures in life. Nurture your creativity and well-being with our winter weekend singing retreat in the heart of rural Limousin in central France.
Embracing the Scandinavian concept of hygge our days will be filled with activities to nourish the heart, body and soul. From joyous daily singing, meditation sessions, exploring the beauty of the Limousin landscapes and countryside, sharing delicious home cooked meals by candlelight and the all important relaxing in front of the log fire with a good book and a hot chocolate.
January is a beautiful time of year to visit the Limousin. A quiet, tranquil time when nature is resting and recharging itself in readiness for the coming spring. We mirror the seasons during our retreats - providing the time and space for you to recharge, rest and nourish your creativity and well-being.
Nurture your creativity and well-being
During your weekend singing retreat there will be group singing workshops and an individual vocal coaching session too. We will sing a range of uplifting songs from pop, rock, folk and world music repertoires. There is no need to read music, as all songs will be taught by ear. The only requirement is a love of singing .
When you sing, musical vibrations move through you, altering your physical and emotional landscape. Group singing, for those who have done it, is the most exhilarating and transformative of all. It takes something incredibly intimate, a sound that begins inside you, shares it with a roomful of people and it comes back as something even more thrilling: harmony. So it's not surprising that group singing is on the rise.
credit: singing changes your brain
Spend time in the heart of nature
We are located in the Millevaches Natural Park, with walks and forest trails straight from the front door. The shores of Lac de Vassiviere are also only a short walk away. We will be happy to recommend numerous walking and cycling routes, viewing points and places of interest during your retreat stay. Find out more about the beautiful Millevaches Natural Park, Lac de Vassiviere and Creuse department here.
"Research shows positive health effects from viewing natural landscapes on stress levels and speed of recovery from stress or mental fatigue, and long-term overall improvement on people's health and well being."
Psychologist Dr Saima Latif
Relax, go gently and breathe
During the weekend singing retreat we will explore different meditation and relaxation methods to give you both practical experience and knowledge to inform your own meditation practice. These meditation sessions are suitable for complete beginners, or those wishing to develop their own practice.
"Meditation practice isn't about trying to throw ourselves away and become something better. It's about befriending who we are already."
Pema Chödrön
"If you want to conquer the anxiety of life, live in the moment, live in the breath."
Amit Ray
Delicious meals prepared every day using our own home grown and local produce
From slow cooked winter stews to home baked cakes and puddings. Our food is made with love and enjoyed at shared group meal times everyday during your singing retreat. You can read more about our food and cooking here:
'I have loved every minute. Thank you for making me feel so at home in your lovely house. Thank you for such great singing teaching Peter, Thank you Ema for such delicious meals.'
Kate, UK
the winter sing from the heart retreat is suitable for:
all singing levels and abilities – our focus is on the inclusivity and joy of singing that should be accessible to all.

people wanting to take time to relax, reconnect with and nurture their creativity and wellbeing

single travellers, couples or friends.

lovers of nature and rural life.
included in your winter sing from the heart retreat:
group singing workshops for all abilities.

individual vocal coaching session.

comfortable rustic French farmhouse accommodation (single option available).

meditation sessions

delicious home-cooked meals using local and home-grown produce.

time to explore the beautiful Limousin winter landscapes with walking and cycling routes straight from the front door.

plenty of time to rest, sleep, relax and watch the log fires flicker with a book and a big mug of tea and a slice of cake.
Please do not hesitate to get in touch for any further information, and we will be very happy to help.
We look forward to welcoming you to De Tout Coeur Limousin soon.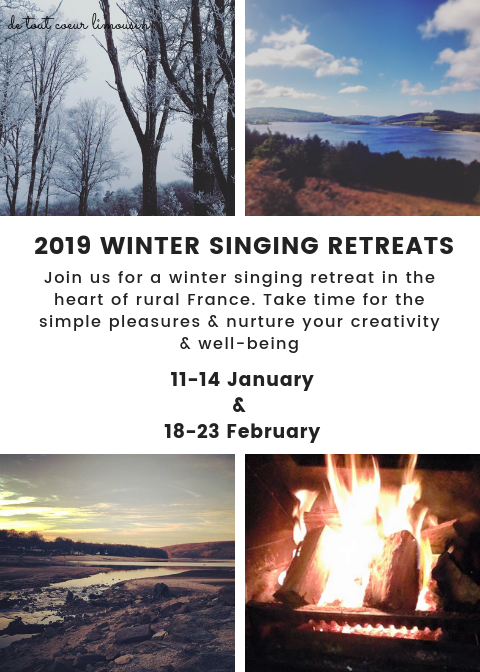 Date et heure
Adresse
De Tout Coeur Limousin
Soumeix
23460 Royère-de-Vassivière
France
Politique de remboursement