Cet événement est terminé.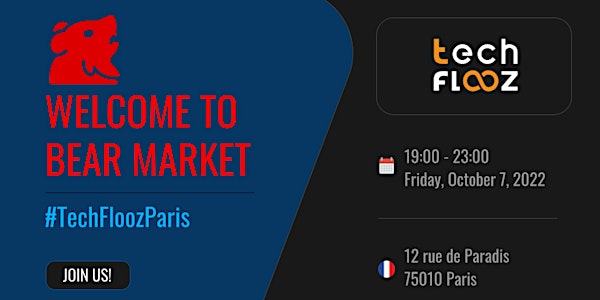 Welcome to Bear Market! (en/fr)
Want to meet crypto investors like you? Come network with Hodlers at Tech Flooz.
Où et quand
Lieu
12 Rue de Paradis 12 Rue de Paradis 75010 Paris France
À propos de cet évènement
"Welcome to Bear Market" The market is red, but the community is still active. Remember that the best opportunities are found during downturns. See you Friday, October 7 at Tech Flooz to meet "builders" and discuss topics related to blockchain and crypto-assets. We are lucky to welcome 2 great speakers :
Benoît Kulesza, founder of GoodHive : "Recruitment opportunities in the Bear Market."
Dylan Charat, founder of GravityMarkets : "Crypto market: Signals to watch for a possible market reversal."
Tech Flooz, 12 rue de Paradis, 75010 Paris. / Contact : +337 5390 6922
See you there ! :)