Cet événement est terminé.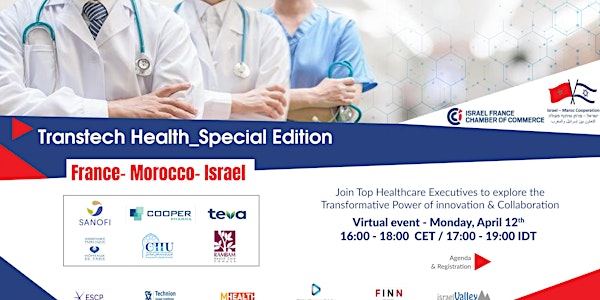 TransTech Health Innovation France - Morocco - Israel
Join top healthcare executives from France, Morocco and Israel to explore the transformative power of innovation & collaboration
À propos de cet évènement
On Monday, April 12th, 4 pm CET / 5 pm IDT, the Israel-France Chamber of Commerce (CCIIF), in partnership with ESCP Alumni and mHealth Israel invites you to attend TransTech Health Virtual Conference, Special edition France -Morocco -Israel.
Morocco and Israel's recent normalization opens up multiple opportunities, especially in the growing healthcare sector. As we continue to navigate these uncertain times and look to a post-pandemic future, this event brings together, for the first time, executives from leading healthcare pharmaceutical and health systems from France_ a global leading health player Israel_ a world-class health innovation hub and Morocco_ the growing health tech force in Africa.
Our forward thinking speakers will share insights on how they embrace a future of digital transformation and collaboration opportunities including case studies on:
Digital health enhanced pharmaceutical therapies
AI/Robotics /Image guided minimally invasive surgeries
Unlocking data /AI as a key to driving quality, improving efficient and reducing the cost of care in hospitals
Remote care and telemedicine becoming the new normal
Interdisciplinary collaborations to deliver on novel patient centric cost effective solutions
Event Format: 10-minute presentations, followed by a panel moderated by top 10 Digital Health Influencer, Gil Bashe. See Detailed Agenda below .
Registration: Sign-up on this page. You will receive the link to connect to the event later, via separate email one day before the event.

Event Organisers
Dr. Daniel Rouach, President @CCIIF - Israel France Chamber of Commerce and IMC - Israel Morocco Cooperation Commission
Karen Beer-Gabel, Managing Director @dhc-digital health connection
Levi Shapiro, CEO @mhealth Israel
Jonathan Elhadad, CE0 @avrioanalytica
Shiran Katz, Vice President @Rothschild & Co
This event was initiated by the CCIIF and the Israeli Chapter of ESCP Alumni .
See you on Monday, April 12th, 16:00 CET / 17:00 IDT for "Israel / Morocco / France Healthcare Innovation"