Cet événement est terminé.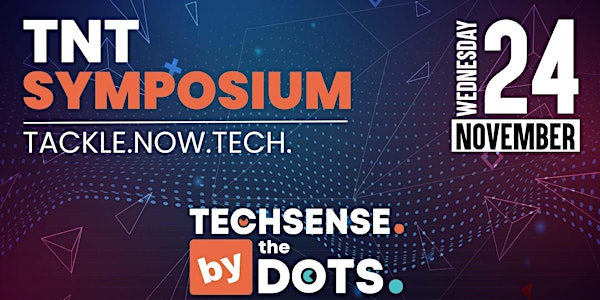 TNT SYMPOSIUM
More than a Big Bang! Be part of The Great Reset of the Tech Innovation and Digital community!
Où et quand
Lieu
European Convention Center Luxembourg (ECCL) 4 Place de l'Europe 1499 Luxembourg Luxembourg
Politique de remboursements
Pas de remboursements
À propos de cet évènement
TNT Symposium, It's gonna be explosive!
Tackle. Now. Tech
TechSense by The Dots, the new Tech, Innovation & Digital community founded by Kamel Amroune.
On November 24 from 4 p.m., TNT Symposium will bring together the Technology, Innovation and Digital decision-makers for an explosive evening!
More than just a Gala, the TNT Symposium promises you:
an explosion of ideas for experts who wish to share their know-how and learn from others,
an explosion of the network of those who want to widen their professional circle during the Exchange Cocktail,
an explosion of emotions for those who want to gather in a friendly and convivial atmosphere,
an explosion of leads for those who aspire to meet their future clients,
an explosion of pride for the award winners.
The Awards :
TechforLife: Building Technology that Makes Sense (environment, healthcare, sustainable tech),
The CIO'22: rewards a CIO according to three criteria (Technology, Humanity, Empowerment). The CIO'22 will be the ambassador of the Tech, Innovation and Digital community throughout 2022,
Tech50: the top 50 Tech companies that contribute to the Tech, Innovation and Digital community in Luxembourg.
To satisfy both minds and bodies, the TNT Symposium includes a conference, a cocktail party and a dinner.
There is nothing like a good old reboot to put things right … A Big Bang? No, it will be The Great Reset, which will be the theme of the 2021 conference as well.
Program :
3:30 PM Registration and Reception
4:00 PM Opening speech
4:15 PM "The Great Reset" - Keynote speech by Peter Sondergaard
4:45 PM "After COP26, how can Technology support Sustainability Transformation ?" - Keynote speech by Carole Davies-Filleur, Accenture
5:00 PM "Beat the Buzzer" - Quiz game hosted by Peter Sondergaard
5:20 PM "Reset your Brain" - Mentalist show by Fabien Olicard
6:00 PM Connecting Cocktail
8:00 PM TNT Symposium Dinner
11:00 PM After Party
Sponsors :
Deloitte
Accenture
EBRC
MIXVoip
NSI
Telkea
POST
Beyn
Delaware
Orange
Salesforce
Telindus