Cet événement est terminé.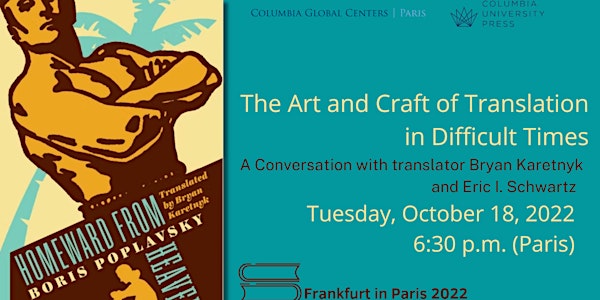 The Art and Craft of Translation in Difficult Times
The Frankfurt in Paris Book Talk series returns with a conversation on the politics of translation.
Où et quand
Lieu
Reid Hall 4 Rue de Chevreuse 75006 Paris France
À propos de cet évènement
Russia's war of aggression in Ukraine offers obvious challenges and potential opportunities for Russian fiction in translation. Will book publishers turn away from new translations of classic works? Will they take risks on new voices? How will they find those new voices? What is the relationship between a nation's literary culture and the state, and do readers make that distinction? What is the role of a translator interpreting authors and their literary cultures?
Join award-winning translator Bryan Karetnyk and Eric I. Schwartz, Editorial Director of Columbia University Press on the eve of the Frankfurt Book Fair, the world's most significant meeting of book publishers, agents, and service providers, for a wide ranging conversation about the art and craft of translation during periods of political crisis.
Speakers
Bryan Karetnyk is an award-winning British writer, critic and translator. He lectures at the University of Cambridge, where he is an expert in the literature and culture of the Russian diaspora. His recent translations include major works by Gaito Gazdanov, Irina Odoevtseva, Boris Poplavsky and Yuri Felsen, and he is the editor and principal translator of the landmark anthology Russian Émigré Short Stories from Bunin to Yanovsky (2017). He is a regular contributor to the Times Literary Supplement, the Spectator and the Financial Times. Twitter: @Bryan_S_K
Eric I. Schwartz is Editorial Director at Columbia University Press where he leads a team of editors in fields across the humanities, social sciences, sciences, and professions. He is the acquiring editor for sociology and special collaborations with the various units of Columbia University. His Ph.D. is in political science from the New School for Social Research. He served on the Program and the Admissions Standards Committees for the Association of University Presses, is a Past President of the Bookbinder's Guild of New York, and was a Board Member of the Professional and Scholarly Publishing Section of the Association of American Publishers. He is a co-founding editor of the Black Lives in the Diaspora series, an historic partnership between Columbia University Press, the Department of African American and African Diaspora Studies at Columbia University, and the College of Arts & Sciences Howard University and initiated the annual Frankfurt in Paris book talk series at the Columbia Global Center - Paris.
The Frankfurt in Paris Book series is organized in partnership with Columbia University Press.