Informations sur l'événement
Adresse
Strasbourg
1 Rue Jean-Dominique Cassini
67400 Illkirch-Graffenstaden
France
Description de l'événement
Welcome to SpaceUpISU: a space unconference where participants decide the event topics, schedule, structure at the home of everything Space.
À propos de cet événement

Note: This is a registration page. Upon registering, please follow the link in the email confirmation to make a payment of € 25 on our ISU Online Payment Portal.
What is SpaceUp?
SpaceUp is a space unconference, where participants decide the topics, schedule, and structure of the event. Everyone attending a SpaceUp is involved in a small talk, or a discussion. Sessions are scheduled and scheduled on the day, which means the usual "hallway conversations" turn into full-fledged topics. Find more details about SpaceUp Events.
As the name indicates, an unconference is not a typical conference, but what does that really mean? At SpaceUp, our goal is to provide the opportunity for space enthusiasts, students and professionals from all walks of life to meet, with the common goal of creating an atmosphere of open exchange between participants. It does not matter if you are a hardcore scientist or if you just find space awesome. Our aim is to give everyone a platform to share and discuss ideas and views. So do not be shy, we're all in it together! SpaceUp is your unconference, where you determine what happens.
What is ISU?
Located in Illkirch, France, just south of the city of Strasbourg, the International Space University develops the future leaders of the world space community by providing interdisciplinary programs to students and space professionals in an international, intercultural environment. As a neutral forum with its international network of experts on call, ISU is ideally positioned to conduct research studies to provide agencies, industry and public organisations with the impartial global perspective and advanced analysis needed to stay on the cutting edge of the space sector and respond resourcefully to future challenges.
When and where is this happening?
SpaceUP ISU will take place at the International Space University building in Strasbourg on the 23rd and 24th February 2019.
Is this a new concept?
Absolutely not! SpaceUp has been successfully drawn in crowds since 2010 and has grown to the world leading space unconference platform, with over 15 events in six continents every year, and growing. Check out www.spaceup.org to get a feel for how widespread SpaceUp has become. And we're excited to announce SpaceUp will return to ISU in 2019!
Can I do a talk myself?
Everyone at SpaceUP ISU is encouraged to give a talk, moderate a panel, or start a discussion. Sessions are proposed and scheduled on the day they are given, which means the usual 'hallway conversations' turn into full-fledged topics on stage. You will be amazed at what comes out of SpaceUp. We have seen new business startups started, real space solved problems, projects kicked off, hatched plans, and amazing friendships born!
Who is coming?
SpaceUp wants to be a platform for anyone who is interested or has an opinion about space. It is open to all ISU alumni, but also to anyone from outside ISU. So invite your friends from the region, the country, from Europe or from anywhere around the world to join. We want to hear from you!
We will also be joined by some well-known guests from the world of Space - stay posted for further announcements.
Okay, I'm in. What's on the agenda?
We will start the day with an empty grid. We will have rooms, we will have timeslots, we will have you as participants. We will introduce you to the concept, welcome to you, and leave it up to you and make the conference happen. You can be prepared or unprepared, it does not matter. There is a time and a room for you, and if you have something interesting, you will have an audience to share it with. And it is your unconference, anything goes, as long as it is somehow related to space.
What if I'm hungry or thirsty?
Fear not, catering is included in the ticket price.
What is the cost of the ticket?
Tickets cost € 25 per person, or € 10 for students of the ISU MSS19. Everything is included in the price of the ticket (food, drinks, and keynote speaker sessions).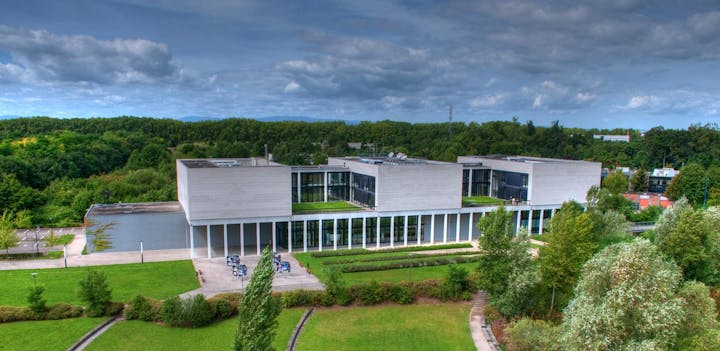 Date et heure
Adresse
Strasbourg
1 Rue Jean-Dominique Cassini
67400 Illkirch-Graffenstaden
France