Informations sur l'événement
Adresse
De Tout Coeur Limousin
Soumeix
23460 Royère-de-Vassivière
France
Politique de remboursement
Politique de remboursement
Contactez l'organisateur pour demander un remboursement.
Les frais d'Eventbrite ne sont pas remboursables.
Description de l'événement
Sing from the Heart singing retreat holiday in the heart of rural Limousin, France. Fun, friendly and supportive breaks for all.
À propos de cet événement
Sing from the Heart Singing Retreat Holidays 2020
Our Sing from the Heart singing retreat holidays in France are led by Peter Evans - who had over 25 years experience as a singing teacher and vocal coach in the South East of England before moving to the beautiful Limousin region of France. Peter was taught by renowned vocal coach and authority on the voice Tona de Brett.
Find your voice and sing from the heart
Peter has worked with everyone from chart stars, to people who believe they're tone deaf, as well as those who just love to sing & want to build their technique & confidence.
Fun, friendly and supportive group singing holidays in France
Our singing retreat holidays in France focus on positive group learning and interaction. Our breaks are a great opportunity to meet new people whilst sharing a fun and creative activity. Many lifelong friendships have been formed on our singing workshops and holidays throughout the years.
We keep our residential groups small (up to 8 people) which allows us to personalise and tailor the retreat more effectively to the specific needs and wishes of the group. We will also be joined by some members of our local choirs for the daily singing workshops and performance night.
We can all sing!
As well as teaching good vocal and performance techniques Peter also works with the emotional blocks, fears & negative voices people can have that stop them from singing wholeheartedly & fully, or even perhaps from singing at all. So if you haven't sung since school or only sing in the shower don't let that stop you. This is the week for you too. Singing is for everyone!
"If you can walk you can dance. If you can talk you can sing."
African proverb
In recent years we have sung songs by Bob Dylan, The Beatles, Rag n Bone Man, Lou Reed, Coldplay, Adele and Tracy Chapman to name but a few, as well as songs from the traditional and world music repertoire. Group song suggestions are always welcomed too.
A typical Sing from the Heart singing retreat day
We will wake up to the sound of the birds in the many trees around the house singing their little hearts out, before breakfasting & then heading off to our workshop barn to sing our own hearts out.
Afternoons are spent on individual vocal sessions with Peter and enjoying your free time. Do as much or as little as you would like; from the many beautiful walks straight from our front door, relaxing at one of the beaches at Lac De Vassiviere, to mountain and road cycling, horse riding, art galleries, live music and regular local food and craft markets, there is much to discover and explore in your free time here in the Limousin. There is also the opportunity to book a holistic treatment with Ema if you would like to.
Evenings are spent enjoying a shared group meal and perhaps a trip to a local market or live music gig.
Our end of week performance
The group songs we have learnt during the week, (plus solo songs from any students who would like to do one), are showcased in the Performance Night at the end of the week, where a friendly gathering of Peter's local students and neighbours will make up our guest audience. An informal and fun evening of singing with a supportive and appreciative audience, and a chance to sing a solo song if you would like to or just enjoy singing in the group.
Why sing?
Group singing has been scientifically proven to lower stress, relieve anxiety and elevate endorphins. Singing is joyful and benefits our health and wellbeing too. Singing changes your brain. Read more about why you should sing - the joys and benefits.
Delicious meals prepared every day using our own home grown and local produce
From big flavoured dishes from around the world to home made cakes and desserts. Our food is made with love and enjoyed at shared group meal times everyday during your singing retreat holiday. Vegetarian and vegan dietary options are available, just let us know when you book.
You can read more about our food and recipes on our blog
'I have loved every minute. Thank you for making me feel so at home in your lovely house. Thank you for such great singing teaching Peter, Thank you Ema for such delicious meals.'
Kate, UK
Sing from the Heart singing retreat holidays include:
comfortable shared accommodation (single room options available)
delicious home cooked meals using home grown and local produce
all group vocal tuition
individual vocal coaching session
free vocal exercise CD
free WIFI
We look forward to welcoming you to De Tout Coeur Limousin and singing with you soon. Please do not hesitate to get in touch for any more information.
Best wishes
Ema and Peter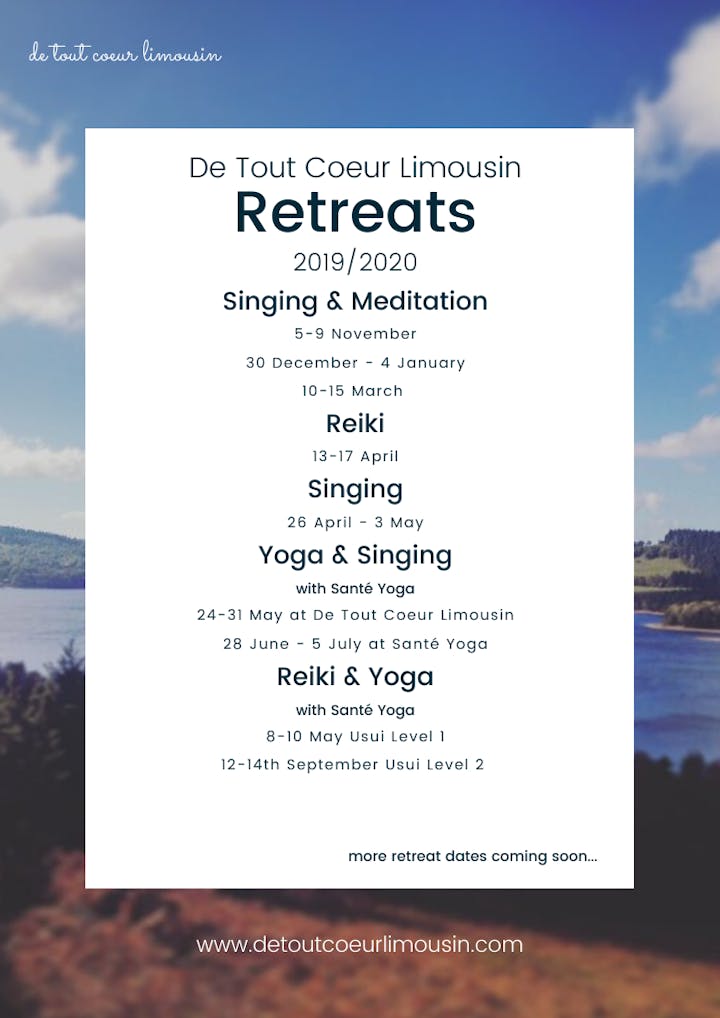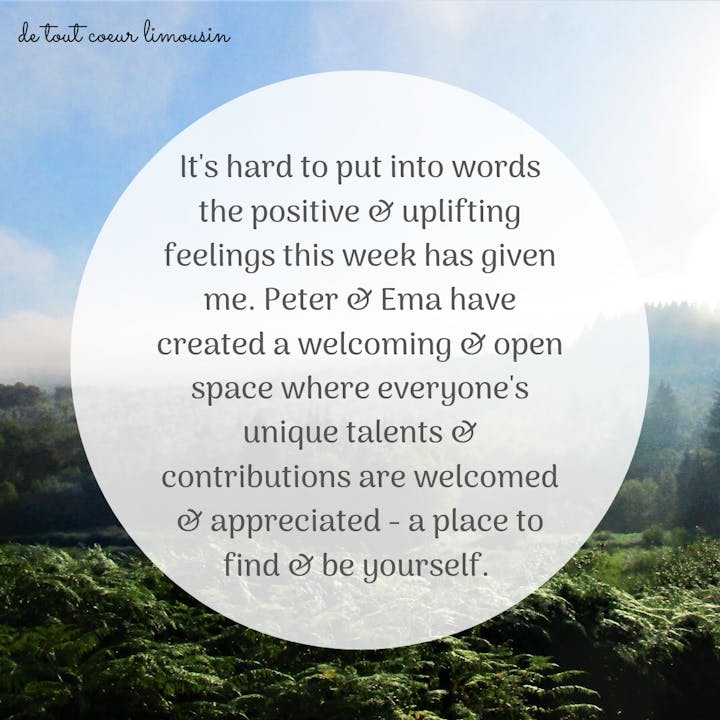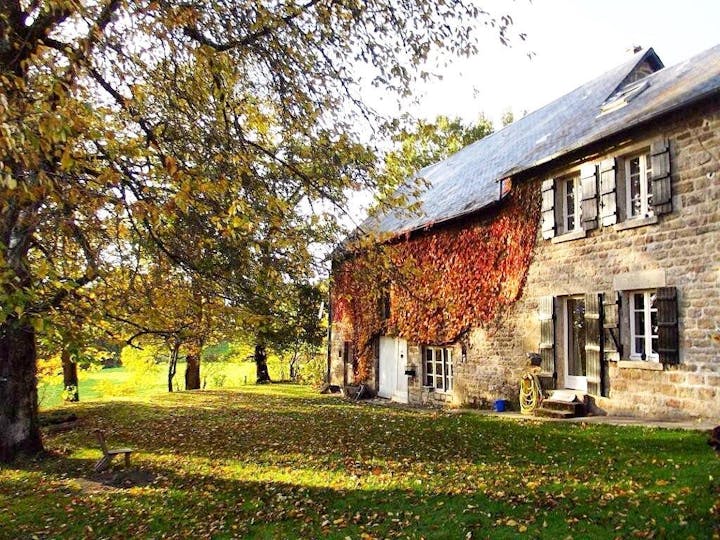 Date et heure
Adresse
De Tout Coeur Limousin
Soumeix
23460 Royère-de-Vassivière
France
Politique de remboursement
Contactez l'organisateur pour demander un remboursement.
Les frais d'Eventbrite ne sont pas remboursables.