Informations sur l'événement
Adresse
De Tout Coeur Limousin
Soumeix
23460 Royère-de-Vassivière
France
Politique de remboursement
Politique de remboursement
Contactez l'organisateur pour demander un remboursement.
Les frais d'Eventbrite ne sont pas remboursables.
Description de l'événement
An opportunity for all to gather together to explore spontaneous and improvised a capella group singing in the heart of rural France.
À propos de cet événement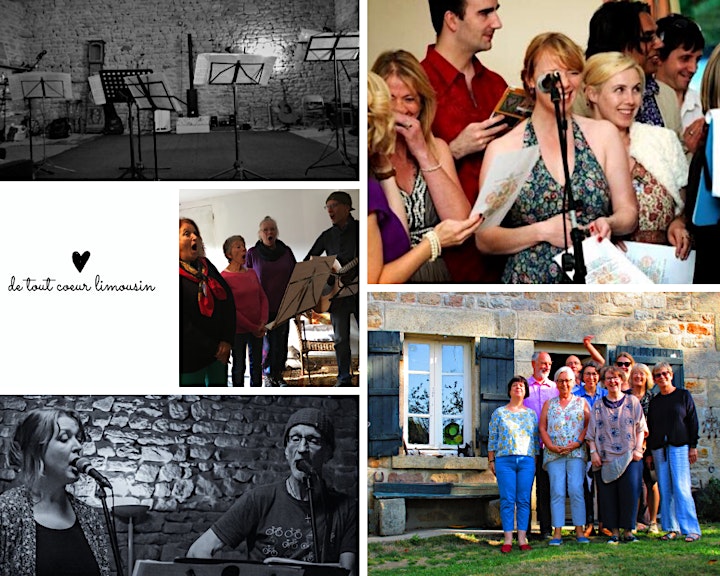 Sing from the Heart
Circle Singing Retreat
18-25 July
Read about us in The Guardian Retreat Special
What is circle singing?
An opportunity for all to gather together to explore spontaneous and improvised a capella group singing. Drawing on ancient and modern musical traditions, songs and influences from around the world. Listening, collaborating and interacting with those around us we will work towards creating our own songs in the moment – playing with melody, harmony, chant, rhythm and movement.
"When you sing with a group of people, you learn how to subsume yourself into a group consciousness because a capella singing is all about the immersion of the self into the community. That's one of the great feelings - to stop being me for a little while and to become us."
Brian Eno
Find the joy and freedom of musical expression with a playful and supportive exploration of singing and your voice. Open and sing from the heart.
Our circle singing retreat at De Tout Coeur Limousin is accessible to all from complete beginners to the very experienced singer. All are welcome
what previous guests have said:
"Such a great place. Ema and Peter make you feel so welcome. The surroundings are beautiful. I had such an amazing time, great songs, lovely food and made fantastic friends. So amazing that I just had to go back again in the same year and will be again this year."
"After 55 years of miming, Peter & Ema gave me reassurance & belief (or should that be faith?) that I might, with perseverance, be able to sing in tune. It was hard, hard work but made good fun by the loving approach to the whole week."
"Always a fun and nurturing environment for any ability."
Find your voice and sing from the heart
Whether an absolute beginner or a more experienced singer all abilities are welcomed to our sing from the heart singing retreats. Singing is for everyone. So even if you haven't sung since school or only sing in the shower this is for you too!
There is no need to read music, the only requirement is a curiosity to explore your voice and creativity. As well as playing with the sounds and songs we create together, we will also learn and develop good vocal technique. Working with the breath, diaphragm, pitch, tone and vocal control to strengthen and underpin our voices.
Peter has taught everyone from chart stars and professional musicians to those who think they are tone deaf and can't/won't sing. He works holistically and sensitively with the emotional blocks and negative inner voices people can have that stop them from finding and using their voice, and reaching their full potential. We can all sing!
Singing is good for you!
Build confidence, meet new people and sing in a fun, friendly and supportive group. Whether improving our health and wellbeing, expressing the creativity we all have, or 'feeling the fear and doing it anyway', there are so many good reasons to sing.
"The voice gets to the soul of a person more than any other instrument. Because it's the voice. It sings talks, it cries, it laughs, it squeals, it barks, it shouts it whispers, There is no other instrument that can do that. We're born with it."
Bobby McFerrin
Group singing has been scientifically proven to lower stress, relieve anxiety and elevate endorphins. Singing is joyful and benefits our health and wellbeing too.
"When you sing, musical vibrations move through you, altering your physical and emotional landscape. Group singing, for those who have done it, is the most exhilarating and transformative of all. It takes something incredibly intimate, a sound that begins inside you, shares it with a roomful of people and it comes back as something even more thrilling: harmony. So it's not surprising that group singing is on the rise."
credit: singing changes your brain
Fun, friendly and supportive group singing retreat holidays in France
Our singing retreat holidays in France focus on positive group learning and interaction. A great opportunity to meet new people whilst sharing a fun and creative activity. Many lifelong friendships have been formed on our singing retreats and workshops throughout the years, and we have many guests who return regularly.
We keep our residential retreat groups small (up to 7 people) which allows us to personalise and tailor the retreat more effectively to the specific needs and wishes of the group. We will also be joined by some members of our local choirs for the daily singing workshops and performance night.
Spend time in the heart of nature
We are located in the Millevaches Natural Park, with walks and forest trails straight from the front door. The shores of Lac de Vassiviere are also only a short walk away. We will be happy to recommend numerous walking and cycling routes, viewing points and places of interest during your retreat stay. Find out more about the beautiful Millevaches Natural Park, Lac de Vassiviere and Creuse department here.
"Research shows positive health effects from viewing natural landscapes on stress levels and speed of recovery from stress or mental fatigue, and long-term overall improvement on people's health and well being."
Psychologist Dr Saima Latif
Delicious meals prepared every day using our own home grown and local produce
From big flavoured dishes from around the world to home made cakes and desserts. Our food is made with love and enjoyed at shared group meal times everyday during your singing retreat holiday. Vegetarian and vegan dietary options are available, just let us know when you book.
Sing from the Heart singing retreat holidays include:
comfortable shared accommodation (single room options available)
delicious home cooked meals using home grown and local produce
all group vocal tuition
individual vocal coaching session
free vocal exercise CD
free WIFI
time to explore the beautiful Limousin landscapes with walking and cycling routes straight from the front door
plenty of time to rest, sleep and relax into a slower natural pace.
Booking
Please get in touch to book and chat more about your singing retreatWe look forward to singing with you soon.
Peter and Ema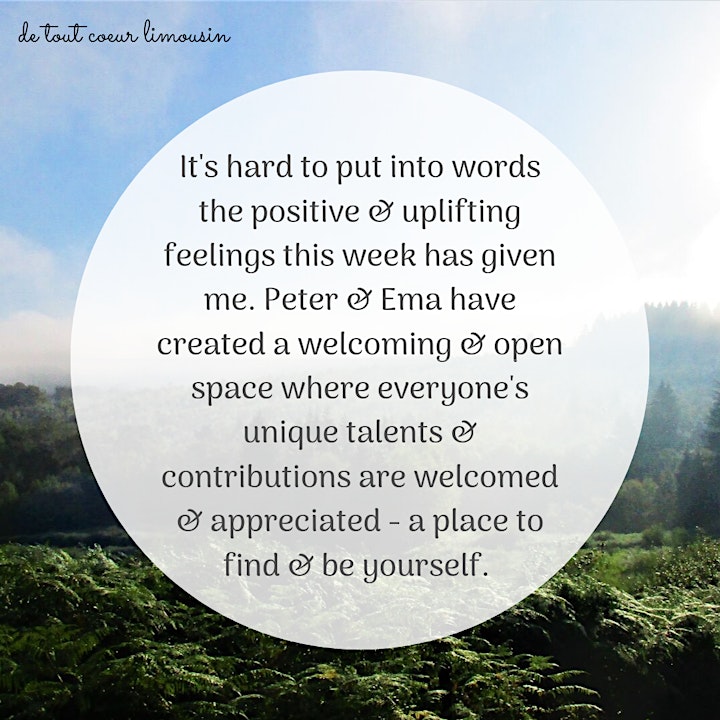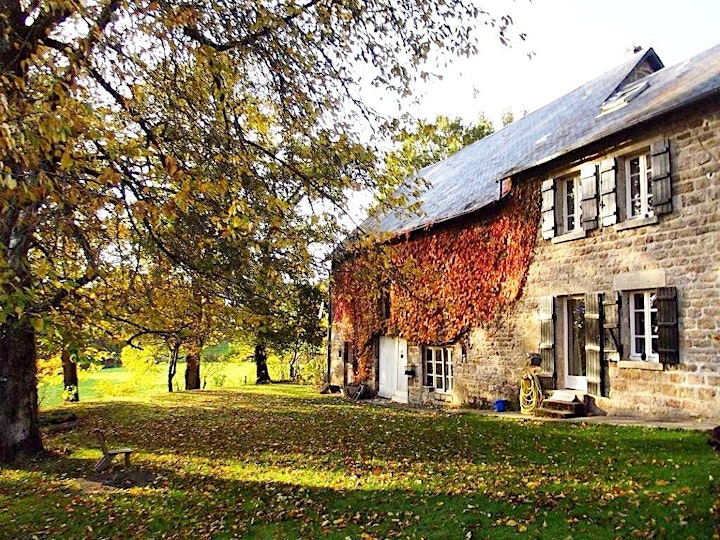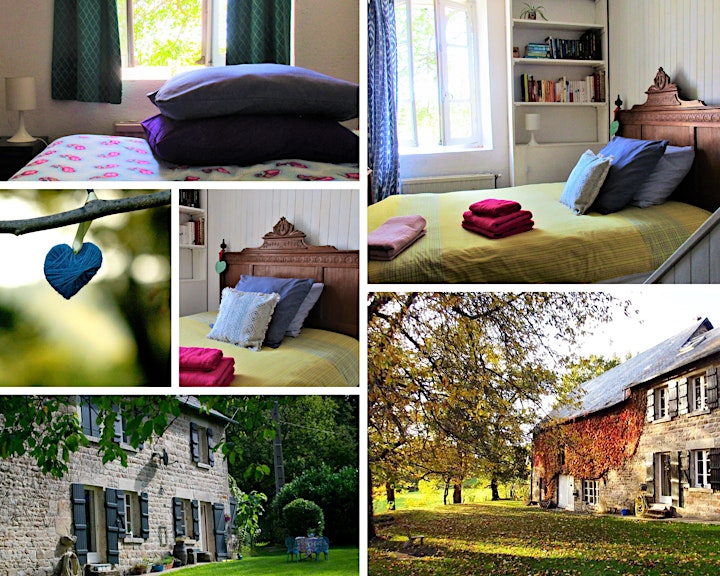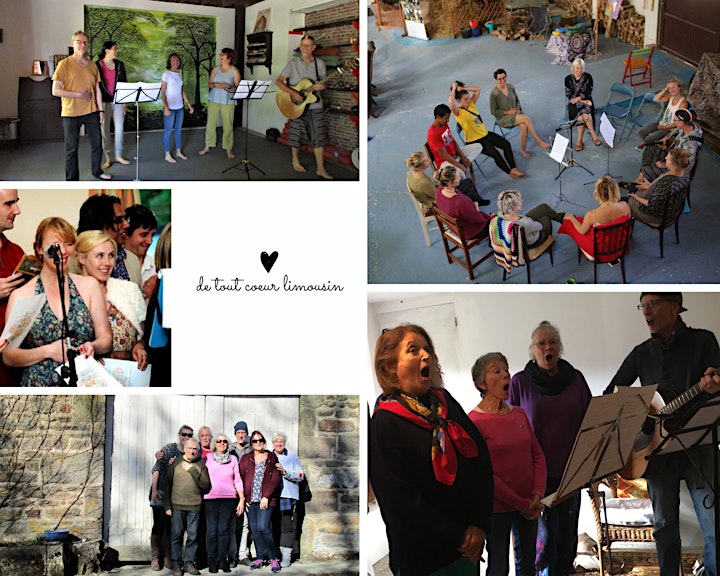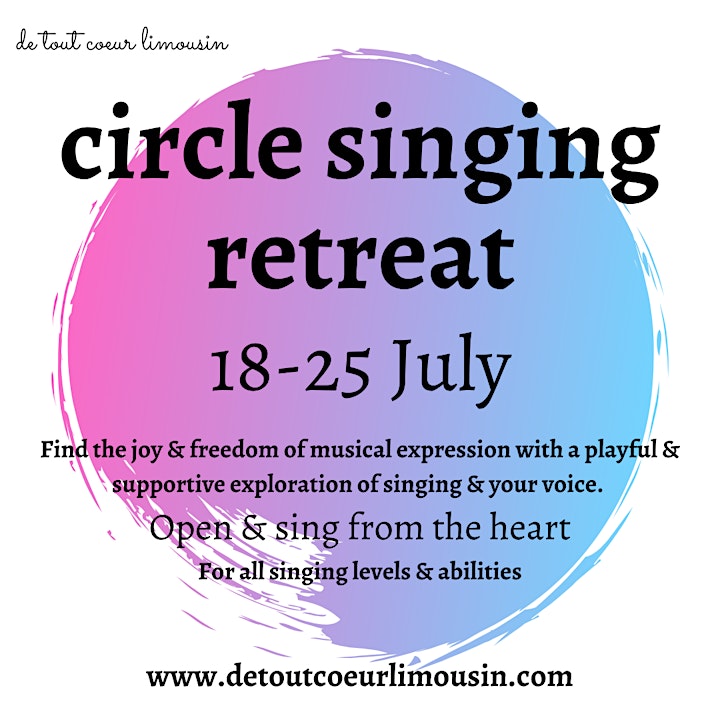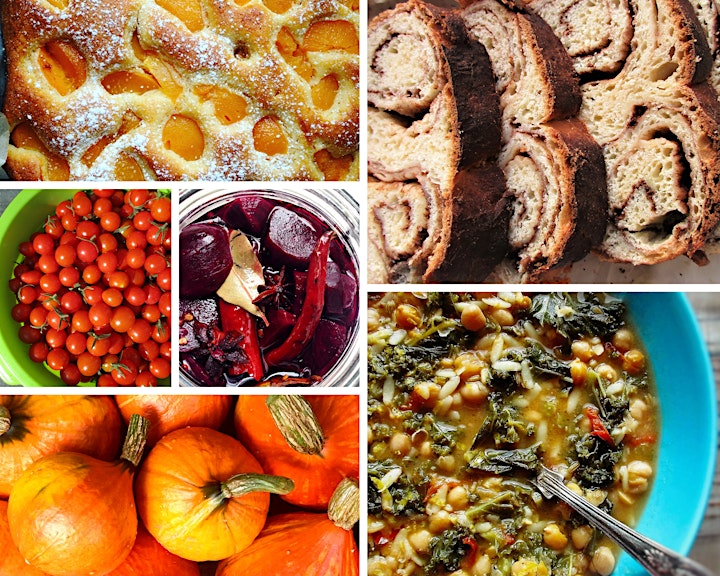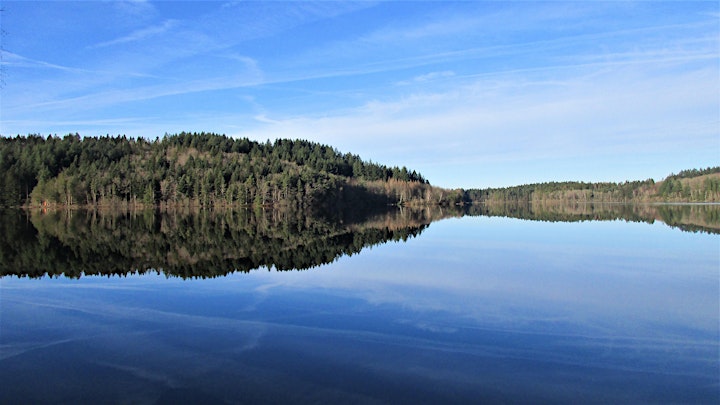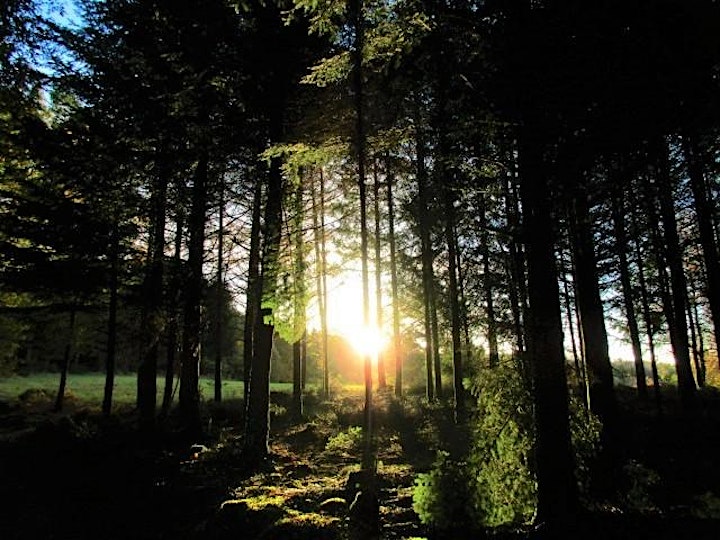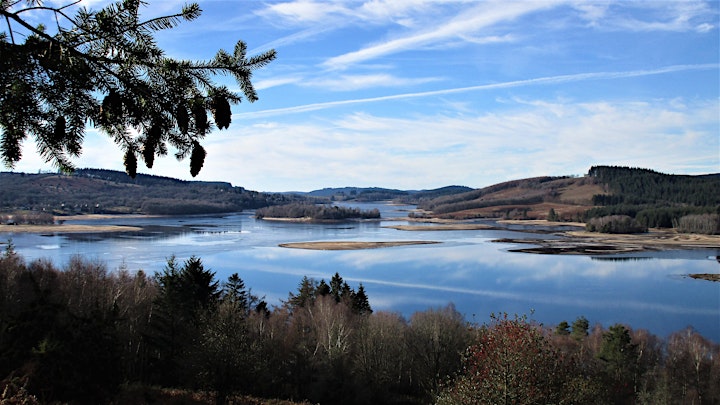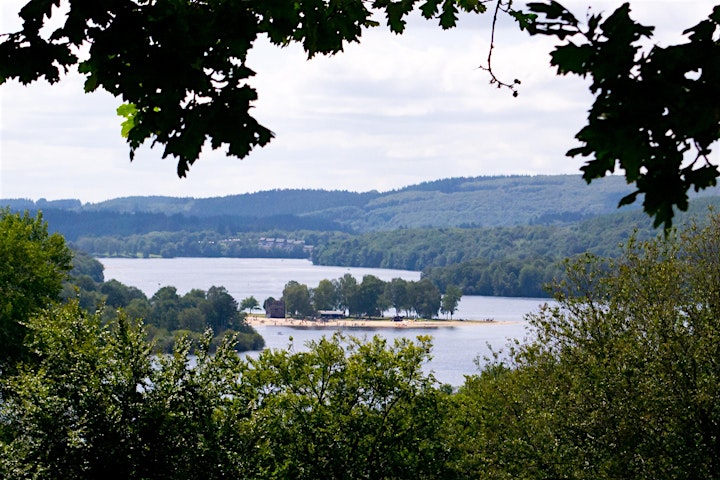 Date et heure
Adresse
De Tout Coeur Limousin
Soumeix
23460 Royère-de-Vassivière
France
Politique de remboursement
Contactez l'organisateur pour demander un remboursement.
Les frais d'Eventbrite ne sont pas remboursables.