Cet événement est terminé.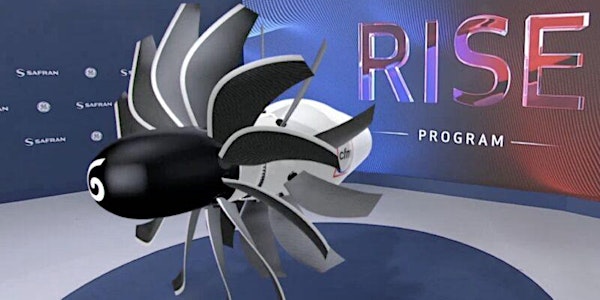 Safran : Revolutionary Innovation for Sustainable Aircraft Engines
Speaker : Dr. Jérôme Bonini, Directeur Recherche et Technologie, Safran Aircraft Engines
Où et quand
Lieu
Salle Vinci 52 Rue Jacques Hillairet 75012 Paris France
À propos de cet évènement
To meet the EU's goal of net zero carbon emissions for aviation by 2050, Safran plays an active role in the development of technologies for low-carbon aircraft, for introduction towards 2030-2035. These aircraft will feature ultra-efficient engines and aerodynamic designs, while also significantly reducing weight and offering full compatibility with sustainable aviation fuels (SAF) and an optimised electrical power system.
Safran recently launched the RISE initiative, an engine technology maturation programme to provide the foundation for the next generation CFM engine in collaboration with GE Aviation, that could reduce CO2 emissions by 20% with an open fan architecture, exploiting technologies such as composite fan blades, ceramic matrix composites, hybrid electric capabilities and additive manufacturing.
The event is free, but you are asked to register in advance on EventBrite.
To join the event in person, you will be asked to present a Carte d'Identité at the entrance.
We look forward to seeing you the 4th of October.
The Paris Branch of the Royal Aeronautical Society