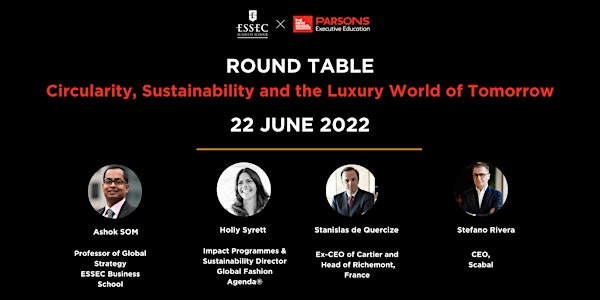 [Round Table] Circularity, Sustainability and the Luxury World of Tomorrow
Lieu
ESSEC Executive Education, CNIT
2 Place de la Défense
92800 Paris
France
ESSEC ROUND TABLE | Circularity, Sustainability and the Luxury World of Tomorrow by Stanislas de Quercize , Stefano Rivera and Holly Syrett
À propos de cet évènement
On June 22nd, 2022, the ESSEC Executive Education campus will be hosting an event featuring Stanislas de Quercize, ex-CEO of Cartier and Head of Richemont, France, Stefano Rivera, CEO, Scabal and Holly Syrett, Impact Programmes & Sustainability Director, Global Fashion Agenda® . The round table will discuss and touch upon a specific range of topics focusing on the very essence of the topic on the relationship between circularity & sustainability. Circularity contributes to a more sustainable world, but not all sustainability initiatives contribute to circularity. Circularity focuses on resource cycles, while sustainability is more broadly related to people, the planet and the economy. Within this context our speakers will discuss the role of the circular economy in the luxury industry, the role of making sustainable products the norm, the importance of consumer information and addressing green claims thus identifying new challenges and opportunities in areas textile, fashion, circular procurement and economic incentives.
AGENDA OF THE EVENING:
5:40 pm: Welcome
6:00 pm : Private Talk by Stanislas de Quercize (ex-CEO, Cartier, VCA, Richemont France) and Stefano Rivera, CEO, Scabal.
7:15 pm : Networking Cocktail
About the speakers:
Stanislas de Quercize: At the start of his career Stanislas de Quercize worked in marketing with Procter & Gamble. He then spent 25 years in luxury at Richemont in various capacities, became president and CEO at Montblanc in France and in America, and Vice President of sales and marketing for Alfred Dunhill in London and then Director of Cartier France. He later became president and CEO of Cartier North America, and president and CEO of Van Cleef & Arpels International. After 7 years working at Van Cleef & Arpels, he joined Cartier Worldwide, as CEO and then president of Richemont France.
Today, when he is not sharing his insights with EMiLUX participants at ESSEC Business School, Stanislas de Quercize supports entrepreneurs as a board member of BARNES International Real Estate, Messika, Louboutin, The Remy Cointreau Foundation… He is also the founder and president of a family business where he invests in start-ups on digital disruption and acts as a mentor in the "Réseau Entreprendre", where he helps entrepreneurs in developing their teams and strategies.
Stefano Rivera: Stefano Rivera has been CEO of Scabal since June 2013. He holds a diploma in mechanical engineering and an MBA from ESSEC in Paris. He has more than 20 years experience in manufacturing, sales, marketing and retail from working in various national and regional roles in several countries.
Contrary to many, Stefano's taste for entrepreneurship has been evident since the start of his career. He went straight from graduation to managing his own successful SME in his home town of Cremona in the north of Italy, where he forged his first 10 years of professional experience.
Since 2000 Stefano has held various positions at multinational corporations based in France and Belgium. In Paris Stefano managed export business development for Carrier Corporation (a division of UTC) before joining Sperian Protection (now Honeywell Safety Products) as VP Marketing. In 2007 he moved to Brussels where he held positions as Director Retail Europe for Bridgestone and Managing Director Retail EMEA (Europe, Middle East and Africa) for the Goodyear Tyre and Rubber Company, before joining Scabal in 2013.
Holly Syrett: Holly Syrett is the Impact Programmes & Sustainability Director at Global Fashion Agenda. Her responsibilities include contributing to the organisation's strategic mission and sustainability agenda, driving GFA's impact programmes such as the Circular Fashion Partnership and its publications such as the Fashion CEO Agenda, GFA Monitor and Fashion on Climate. Holly Syrett joined Global Fashion Agenda to mobilise and guide the fashion industry to take bold action on sustainability and brings over 10 years of experience working on sustainability and transparency programmes in the fashion industry for both public and professional audiences. Syrett is a World Economic Forum Global Shaper alumnus and former WEF panelist, Climate Reality Leader and she holds a BA in Fashion and Branding from the Amsterdam Fashion Institute. As part of the Global Shapers' Community, she co-founded the Shaping Fashion movement that is now active in 50+ cities worldwide.