Informations sur l'événement
Adresse
Brussels Environment - Tour et Taxis (Bruxelles, Belgium)
Avenue du Port, 86 / C
1000 Bruxelles
Belgium
Description de l'événement
The RAWFILL partners are pleased to invite you to the final event of the RAWFILL project that will be held on Dec. 10 & 11, 2020 in Brussels
À propos de cet événement

Due to the situation related to the covid-19 public health emergency, we have decided to postpone the final event of the RAWFILL project to the 10th and 11st of December 2020. The new program of the event is described below.
The RAWFILL partners are pleased to invite you to the final event of the RAWFILL project that will be held on the 10th and 11th of December 2020 in Brussels and in Wallonia (Belgium), respectively.
With the RAWFILL project we are supporting a new circular economy for raw materials from landfills. As circular economy is one of the main priorities to the EU, the landfill mining is an efficient solution to the transition from traditional waste management to sustainable material management. To implement this circular economy in NW Europe, RAWFILL has developed three tools:
(1) An innovative method to characterize and assess the economic potential of the landfill using geophysics and guided samples;
(2) An enhanced landfill inventory structure (ELIF);
(3) A decision support tool that help to select the most profitable landfill mining projects.
Moreover, as there are no general consistent legislative frameworks and approval procedures for landfill mining in most of the NWE region, RAWFILL team discusses with local authorities and facilitates the knowledge exchange on landfill management and mining at an EU-level in order to tackle the existing barriers.
The first day (December 10, 2020) will be dedicated to the RAWFILL conference where Landfill mining, waste management and circular economy topics will be discussed. On the second day (December 11, 2020), a site visit and a demonstration of geophysical measurements will be organised on Onoz site, one of the RAWFILL pilot site.
Please find below the program of the event.
DAY 1 – December 10, 2020. RAWFILL conference in Brussels (Tours et Taxi site).
8.30 – 9.00 Registration and Welcome coffee
9.00 – 10.30 Presentations & Discussions
• Welcome Speech (Claudia Neculau, SPAQuE, Wallonia)
• Objective and Achievement of the RAWFILL project (Claudia Neculau, SPAQuE, Wallonia)
• Landfills : threats and opportunities measured through RAWFILL Enhanced Landfill Inventory Structure (Renaud De Rijdt, ATRASOL, Wallonia)
• What is the future of landfills in NWE and how to decide their future use based on Cedalion tool ? (Eddy Wille, OVAM, Flanders)
10.30 – 11.00 Coffee break
11.00 – 12.15 Presentations & Discussions
• A workflow for landfill characterization using geophysics and targeted sampling (Arnaud Watlet, British Geological Survey , UK)
• High resolution mapping : from resource to reserve, a case study from NWE (University of Liège, Wallonia and British Geological Survey , UK)
• Orion tool – A road map to start a landfill rehabilitation project (Eddy Wille, OVAM, Flanders)
12.15 – 13.30 Networking lunch
13.30 – 14.30 Presentations
• Welcome speech and presentation of the Interreg NWE program (Representative of Interreg NWE joint secretariat, France - to be confirmed)
• 3T's for 3R's. Transparency. Technology. Trust - the future context in which our circular economy is really working! (Ionut Georgescu, End of Waste Foundation, USA)
• Landfill Mining: tailoring the best possible solution based on project drivers and goals (Yves Tielemans, Group Machiels, Flanders )
• Recycling of low-grade metal containing residues: towards a combined metal recovery and sanitation approach (Lieven Machiels, KU Leuven, Flanders)
14.30 – 14.45 Questions and Discussions
14.45 – 15.45 Presentations
• Applying the Brownfield Opportunity Matrix to landfills (Paul Bardos, r3 environmental technology Ltd, UK)
• Multi-criteria assessment for landfill mining concepts and technologies (Giovanna Sauve, KU Leuven, Flanders)
• How to develop a business case for a landfill mining project ? – Presentation of the ONTOL tool (Eddy Wille, OVAM, Flanders & Johan Fellner, TU Vienna, Austria)
• UK case studies on landfill mining along with resource and energy recovery (Frederic Coulon, Cranfield University, UK)
15.45 – 16.00 Questions and Discussion
16.00 – 16.30 Coffee break
16.30 – 17.30 Presentations
• Landfill Reclamation driven by Land Use Change in the UK – A Contractor's Experience (Duncan Scott, Vertase Fli, UK)
• Landfill mining intervention on Municpal Solid waste site in Italy (Giovanni Perillo, Parthenope University of Naples, Italy)
• Landscaping and redevelopment of Landfills in the Netherlands: what are the indicators of failure and success? (Erik Kuiper, AFVALZORG, Netherlands - to be confirmed)
• Towards a Green New Deal for landfill mining in Wallonia (Claudia Neculau, SPAQuE, Wallonia)
• How to deal with an environmental crisis related to LFM ? Presentation of the LFM project in Bordes, France (Mayor of Bordes, France – to be confirmed)
17.30 – 18.00 Questions and closing discussions
18.00 – 19.00 Networking cocktail
Conference venue :
Brussels Environment – Auditorium room (Tour & Taxis),
Avenue du Port 86c/3000
1000 Brussels
How to get there? The conference venue is located close to the Brussels North train station. From Brussels North train station, take the bus 14, 20, 57, 88 and stop at Tour et Taxis (7 minutes). Brussels Environment is at two minutes by walk.
DAY 2 – December 11, 2020.
RAWFILL site visit and demonstration of geophysics at Onoz site, one of the RAWFILL pilot site.
On Day 2, you will visit the landfill site of Onoz, which is the first site where a landfill mining project would be launched by the end of 2020. During this day, the results of the RAWFILL project on Onoz site will be presented in detail as well as the landfill mining project. Geophysical surveys will also be performed on site and five techniques will be presented: ground-penetrating radar, electrical resistivity tomography, electromagnetic, seismic refraction profiling and H/V measurements. Moreover, you will have the possibility to test the online Decision support tool – Cedalion, developed by RAWFILL, directly on site.
A bus will transport the participants from Namur station to the site. More information will be sent by email to the participants.
Please note that the event will be held in English.
Registrations:
The RAWFILL final event is entirely free of charge but registration is mandatory. Spots are limited, therefore we strongly encourage you to register in advance. You have the possibility to either register for both days or only participate to one day. Please register before the 1st of December 2020. As the number of participants is limited and the event is free of charge, a no-show fee of 75 euro will be applied unless you cancel before 02/12/2020 by sending an e-mail to rawfill@spaque.be.
For more information about the RAWFILL and the events, contact: rawfill@spaque.be.
We look forward to seeing you at the RAWFILL final event.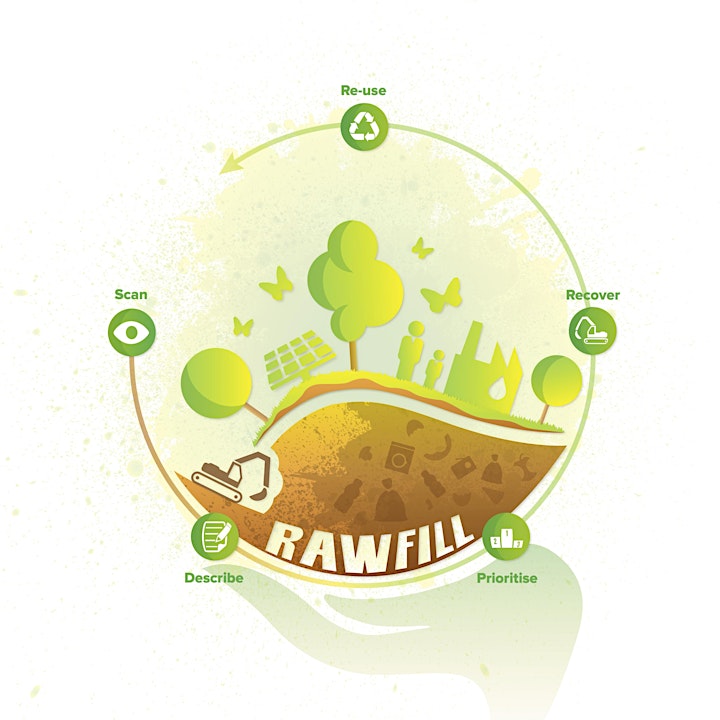 Date et heure
Adresse
Brussels Environment - Tour et Taxis (Bruxelles, Belgium)
Avenue du Port, 86 / C
1000 Bruxelles
Belgium