Cet événement est terminé.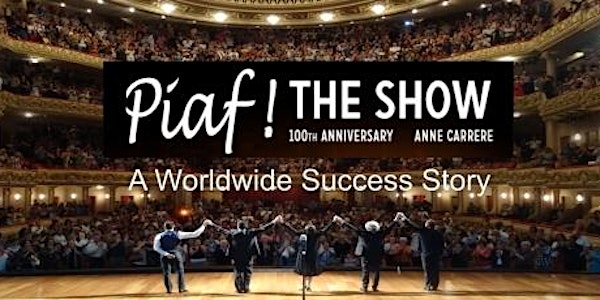 PIAF THE SHOW - Tuesday, October 27 from 8pm to 10pm EDT - EMBASSY OF FRANCE IN WASHINGTON DC
Où et quand
Lieu
Ambassade de France aux États-Unis 4101 Reservoir Road Northwest Washington, DC 20007
Politique de remboursements
Contactez l'organisateur pour demander un remboursement.
Description
Directo Productions and Gil Marsalla Presents
In partnership with the Cultural Services of the French Embassy in Washington, DC and Bureau Export

PIAF ! THE SHOW
Performed by ANNE CARRERE
100th Anniversary of EDITH PIAF Birthday 2015
PIAF ! THE SHOW A WORLD WIDE SUCCESS !

Piaf ! The Show is the most important international show in 2015 with more than 100 concerts mostly selling out all over the world.

Inspired by the winning award movie " LA VIE EN ROSE" which was a international success, PIAF ! THE SHOW will tell the amazing story of the life and career of EDITH PIAF through all hits songs with amazing voice of ANNE CARRERE.
About the show
*The show consists of two 45 minute acts with one intermission.
*The audience is taken on a journey through the streets of Montmatre during the time of "La Vie en Rose".
*Never before seen photos and images of Edith Piaf, will be shared through a unique audiovisual experience.
*The show will tell the amazing story of the life and career of Edith Piaf through classic French music.
*During the show, Anne Carrere will be accompanied by 4 musicians

The show is part of the official celebration of the 100th anniversary of the birth of EDITH PIAF to be held in December 2015 in PARIS and at NEW YORK CITY SYMPHONY SPACE on 23 oct 2015

PIAF ! THE SHOW ON TOUR USA/CANADA/QUEBEC

October 23, NEW YORK - Symphonic Space
October 24, PRINCETON, NJ - McCarter Theater Center
October 25, NEW BEDFORD, MA - Zeiterion
October 27, WASHINGTON DC - French Embassy
October 28, WASHINGTON DC - French Embassy
October 30, TORONTO - Royal Conservatory
October 31, L'ASSOMPTION, QC - Théâtre Hector Charland
November 1, BELOEIL, QC - Centre Culturel de Beloeil
November 3, SAINTE GENEVIÈVE, QC - Salle Pauline Julien
November 5, MEGANTIC, QC - Salle Polyvalente
November 6, QUEBEC, QC - Palais Montcalm
November 7, MONTREAL, QC - Rialto
Anne Carrere
Anne Carrere is the eldest in a family of five children. Born August 15, 1985 in Toulon (southern France), she is an accomplished young artist. Anne studied a variety of genres of dance including classical, jazz and break dancing and later pursued studies in music theory, flute and piano.
At age 12, she began voice lessons with Daniel Bastian and theater training with Didier Biosca,
Sensitive, energetic and determined, she maintained a rigorous schedule of artistic training and competitions while continuing her studies. After obtaining a literary Bacaloreate, she joined her first band and rapidly became a well-known name in show business.
Her noteworthy participation in Michel Fugain's show "Be Careful Ladies and Gentlemen", galas and concerts did not occupy all of Anne's time. In parellel, she began IMFP training from the Salon-de-Provence. There she studied jazz vocals and vocal nuance and mastery from Julien Baudry and Richard Cross.
Anne writes, creates and innovates constantly. She is truly a well-rounded artist who invents and reinvents her art in a unique and rich way each time she performs.
A lover of classic French songs, Anne participated in the 2014 casting call for PARIS! The Show. Captivated by the power of her voice and her natural charisma, Gil Marsalla, producer and director of the show, immediately offered her the role of Edith Piaf. Anne then met Germaine Ricord, a friend and confidant of Edith Piaf
Germaine also falls immediately in love with this incredible voice and with this little lady that reminds him so much of his friend Edith Piaf.
IMPORTANT
GENERAL ADMISSION : 55 € / Around 67 US $
Parking available on Reservoir Road and across the street at Georgetown University Hospital's pay lot
New Security Rules: A reservation on Eventbrite is mandatory, attendees must have a Government issued photo ID in order to enter the Embassy
NO ONE WILL BE ADMITTED WITHOUT RESERVATION OR PROPER ID
Due to strict security measures, please arrive on time, doors will be closed at 8pm sharp
OFFICIAL FACEBOOK PAGE : HERE
website : www.piaf-theshow.com