Cet événement est terminé.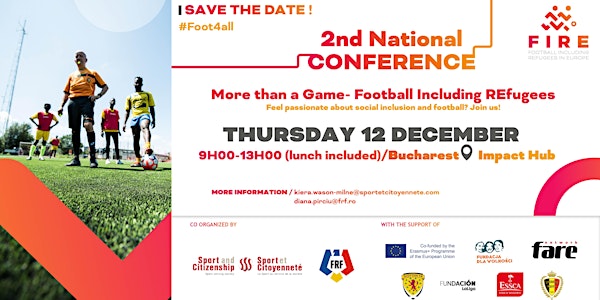 More than a game - Football Including Refugees
Join us for our conference in Bucharest to discuss on how football can be a tool to locally include refugees across Europe !
Où et quand
Lieu
Impact Hub Bucharest Splaiul Unirii 165 Timpuri Noi Square, clădirea 2, etaj 1 030133 București Romania
À propos de cet évènement
Join us for our conference on Thursday 12 December in Bucharest, where we'll be sharing knowledge, best practices and insights into how football can be utilised as a tool for social inclusion at a local level. You'll maybe even get some new ideas that will inspire you to pursue your own local inclusion initiative for refugees, migrants and asylum-seekers!
The FIRE project strives to promote football as a medium of social inclusion, participation, socialisation and access to sport for asylum-seekers, refugees and migrants. Financed by the Erasmus + programme, FIRE's main objective is to support grassroots football organisations and foster cross-sector partnerships between all involved sectors by creating a network for mutually enriching participants. We believe in fostering intercultural openness across European local football clubs and bodies, and further seek to empower, enable and support local football organisations to work with refugees and asylum-seekers through sport, and football.
Working Agenda
9.00 Registration and networking
9.30 Welcome
Ciprian PARASCHIV Grassroots Manager, Romanian Football Federation
9.50 Introduction to the FIRE project
Kiera WASON–MILNE FIRE Project Manager, Sport and Citizenship Think Tank
10.00 Social inclusion, sport and refugees – an overview
Pr. Albrecht SONNTAG ESSCA School of Management (France)
10.30 Learning from good practices
Jorge Bolaños President, & Dolores Galindo Communications, Dragones de Lavapiés (Spain)
Fedasil (Belgium) TBC
11.00 Coffee Break
11.15 Q&A Panel Discussion
Răzvan Samoilă Romanian Forum for Refugees and Migrants (ARCA)
Kirsten Theuns Terre des Hommes Romania
Thomas Farines Terre des Hommes Greece
National Immigration Agency – speaker TBC
Diana PIRCIU Project Manager, Romanian Football Federation
Moderator: Florin SARI Romanian Football Federation
12.15 Questions from the audience
12.30 Wrap up and conclusions
13.00 Lunch and Network
14.30 End of conference and departure of participants