MASTERCLASS BUSINESS, HUMAN RIGHTS AND CLIMATE CHANGE
Informations sur l'événement
Politique de remboursement
Politique de remboursement
Contactez l'organisateur pour demander un remboursement.
Les frais d'Eventbrite ne sont pas remboursables.
Description de l'événement
Business and Human Rights; Understand corporate human rights due diligence requirements and developments at the international, regional,
À propos de cet évènement
Climate change is one of the greatest threats to human rights of our generation, posing a serious risk to the fundamental rights to life, health, food and an adequate standard of living of individuals and communities across the world.Human rights-based complaints against corporate actors for environmental harms are on the rise globally and across multiple jurisdictions.
Increased competition for natural resources by private companies, sometimes with the complicity of governments, has placed environmentalists and indigenous communities seeking to protect their traditional lands at the forefront of environmental action and made them targets of persecution.
The extending State-tailored human rights to the sphere of transnational business is not normatively desirable,because these actors are not parties to the relevant conventions.
Specifically, the corporate responsibility to respect human rights as enshrined in the UN Guiding Principles on Business and Human Rights (UNGP) has been increasingly interpreted into a duty of due diligence, which requires corporations 'to identify, prevent, mitigate and account for how they address their adverse human rights impacts'. Some countries have already adopted legislation on this matter, and more are in the process of doing so.
The corporate agents accountable for international crimes is often at the periphery of internationalcriminal justice.The Malabo protocol to the African Court of Justice and Human Rights makes corporations criminally liable for certain international crimes, including trafficking of hazardous waste and illicit exploitation of natural resources,195 but it has not attracted any ratification yet.
The United Nations are hosting a treaty making process conducted in a working group of the Human Rights Council.The extant rights-based climate complaints typically argue that corporate actors have a positive duty to reduce emissions and to contribute to climate change mitigation. Others hinge on the corporate responsibility to disclose emissions, climate vulnerability and stranded assets.
The masterclass is designed for practitioners involved in the impact assessment of business projects who have some experience and knowledge of social impact assessment but want to increase their knowledge of human rights and human rights-based approaches, including: individuals within companies or institutions who are responsible for commissioning and overseeing social impact assessments; and internal and external practitioners that carry out impact assessments
As part of the African Court on Human and Peoples' Rights 15th Anniversary celebrations, and At the tenth anniversary of of the Ruggie Principles and six years on from the 2015 Paris Agreement, this Masterclass is a key moment to explore the links between human rights violations and corporate activity, and the importance of international standards in strengthening respect and protection of human right
PROGRAM
1 Introduction to Business and Human rights Discussion on concept of business and human rights, origin, introduction to UNGPs and brief overview of developments until today Corporate criminal responsibility under the Malabo Protocol: A step forward? The UN Guiding Principles on Business and Human rights (UNGPs) framework comparative overview of national due diligence regulations
2 Business and human rights in international law Due diligence in corporate practice
GO strategies towards mandatory due diligence A transnational approach to due diligence regulation
3 the Right of Victims of Abuses to Access Effective Remedies Local Content Requirements in Extractive Industries: A Human Rights approche The company and strategies for anticipating environmental risk and human rights violations Human rights, arbitration and climate change ,The Hague Rules on Business and Human Rights Arbitration)
4 The African Regional Human Rights System
human Rights Due Diligence for Climate Change Impacts
Climate Change, Migration and Human Rights in the Context of SubSaharian Africa The right of peoples to peace and security and the fight against terrorism and cross-border crime in Africa".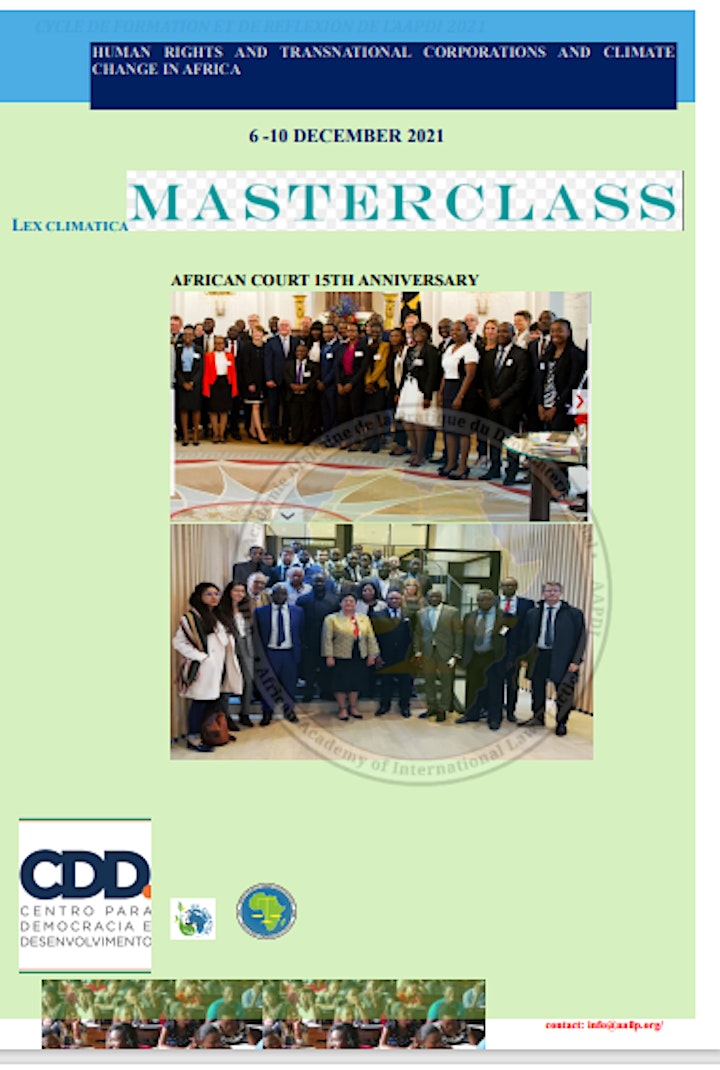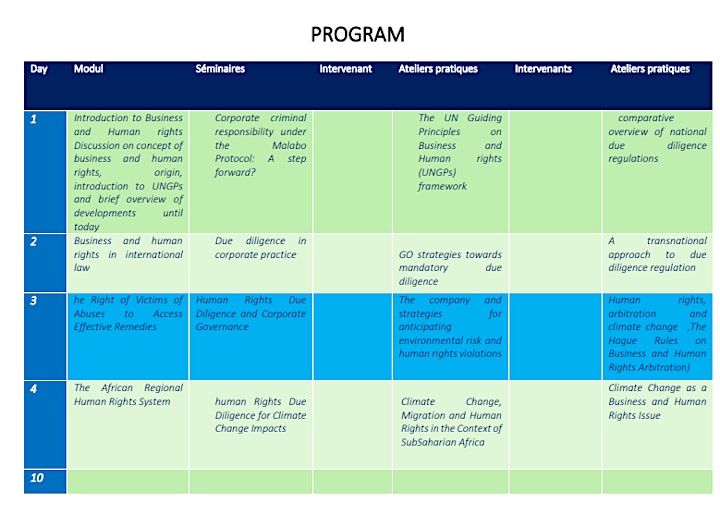 Business and Human Rights;
• Understand corporate human rights due diligence requirements and developments at the international, regional, and national levels;
Date et heure
Adresse
Politique de remboursement
Contactez l'organisateur pour demander un remboursement.
Les frais d'Eventbrite ne sont pas remboursables.
Organisateur de MASTERCLASS BUSINESS, HUMAN RIGHTS AND CLIMATE CHANGE
The african Academy for international law practise (AAILP) is an independent think tank devoted to the study and development of international law. Its mission is to promote universally high standards of legal practice and to conduct in-depth research that leads to new ideas for solving problems facing society at the panafrican and global level. Our research, opinions and public voice make a difference in today's world by bringing clarity and innovative thinking to global policy making.