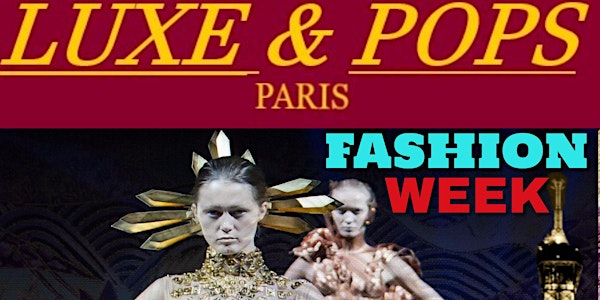 (LUXE & POPS ) Paris Fashion Week
HIGH FASHION SHOW /MEET & GREET ICONS
Où et quand
Lieu
HOTEL LOUVRE NORM.....Paris 1er Arrondissement Quartier LOUVRE 75001 Paris France
Politique de remboursements
Contactez l'organisateur pour demander un remboursement.
Les frais d'Eventbrite ne sont pas remboursables.
À propos de cet évènement
4 heures

Billets électroniques sur mobile
EXPOSITION of BRAND HAUTE COUTURE /LUXE DRESSES
EXPERT MODELS & RED CARPET RUNWAY!!
INTERNATIONAL EVENT ( QUARTIER DU LOUVRE PARIS 75001)HIGH FASHION PARADE.
TIME: *14H30-17H30*
MEET & GREET Miss/Mrs FABULOUS QUEENS & AMERICAN ICONS
PRESENCE OF CELEBRITY MAGAZINES/MEDIA/TV & MANY SURPRISES!!
WHATSAPP contact: +19714273702 / +33758481386
*Early Bird Standard Tickets increase by 3 euros every week
!!! BUY YOUR EARLY BIRD TICKETS TODAY !!!
**You are Welcome**
*Also PRICES will SKYROCK at the GATE, Buy your TICKETS NOW !!!
MORE
How To Showcase/Participate/ Be a Guest
Contact Us !!
Email : shopcontact.infos@gmail.com
Website: www.luxe-n-pop.com (LUXURY PLATFORM)
WELCOME Darling Followers, We love YOU!!
BONJOUR !! Paris La Belle!!