Cet événement est terminé.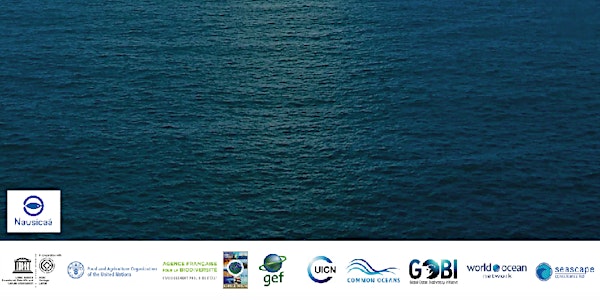 HIGH SEAS INTERNATIONAL CONFERENCE & The Challenges of the High Seas : Public Event
Où et quand
Lieu
Nausicaá Centre National de la Mer Boulevard Sainte-Beuve 62203 Boulogne-sur-Mer France
Description
Nausicaa, the National Sea Centre, invites you to the High Seas International Conference, to raise public awareness and mobilise civil society on the challenges of the High Seas.
Nausicaa, le Centre national de la mer, vous invite aux Rencontres Internationales de la Haute mer, en vue de sensibiliser le public et mobiliser la société civile aux problématiques de la Haute Mer.
The conference is co-organised with l'Agence Française pour la Biodiversité (AFB), the Food and Agriculture Organization of the United Nations (FAO), the Global Ocean Forum, The United Nations Educational, Scientific and Cultural Organization (UNESCO), the World Ocean Network and the International Union for Conservation of Nature (IUCN).
La conférence est co-organisée en lien avec l'Agence Française pour la Biodiversité (AFB), l'Organisation des Nations Unies pour l'alimentation et l'agriculture (FAO), le Global Ocean Forum, l'Organisation des Nations Unies pour l'éducation, la science et la culture (UNESCO), le Réseau Océan Mondial et l'Union Internationale pour la Conservation de la Nature (UICN).
The High Seas hold massive...
...potential for the future of humanity. We are dependent on the High Seas for climate regulation, biodiversity, fisheries, transport and communications. And representing 40% of the Earth's surface, the possibilities of exploration, innovation and research are vast, from deep-sea minerals to new drug compounds. How can we ensure this valuable resource is managed sustainably, with the participation of all parties?
La Haute Mer représente un potentiel énorme pour l'avenir de l'humanité. Nous sommes dépendants de la Haute Mer pour la régulation du climat, la biodiversité, la pêche, le transport et les communications. Représentant 40% de la surface de la Terre, les possibilités d'exploration, d'innovation et de recherche sont vastes, allant des ressources minérales profondes aux nouveaux composés médicamenteux. Comment pouvons-nous nous assurer que cette précieuse ressource est gérée de manière durable, avec la participation de toutes les parties prenantes?
High Level Conference
Interventions from high-level diplomats and speakers of the scientific community, the private sector, non-governmental organizations (NGOs), intergovernmental organizations (IGOs), and academia will provide their insight about the High Seas governance, the Blue Society, and the legal challenges regarding the conservation and the sustainable management of marine resources. How can we as stakeholders work together to communicate, raise awareness and engage the public through media, educators and networks?
Des interventions de diplomates de haut niveau et de conférenciers de la communauté scientifique, le secteur privé, les organisations non gouvernementales (ONG), les organisations intergouvernementales (OIG), et le monde académique donneront leurs points de vue sur les enjeux liés à la gouvernance de la Haute Mer, l'économie bleue ainsi que les défis juridiques et insitutionnels à venir quant à la gestion des ressources marines et la protection de sa biodiversité. Un accent particulier sera porté sur la mobilisation de la société civile, la communication, la sensibilisation et l'engagement du public en rassemblant des représentants des médias et des relais d'information.
CONFERENCE PROGRAMME:
High Level Dialogue and Media Workshop on Areas Beyond National Jurisdiction

Organized with FAO and the Global Ocean Forum
Échange de Haut Niveau et Atelier Média sur les Aires Marines situées au-delà de la Juridiction Nationale - Organisé avec la FAO et le Global Ocean Forum
---
Highlighting the UNESCO World Heritage Convention in the High Seas
Organized with UNESCO World Heritage Centre
Temps fort: La Convention Patrimoine Mondial de l'UNESCO en Haute Mer - Organisé avec le Centre du Patrimoine Mondial de l'UNESCO
---
Visit of the new exhibition, cocktail evening and animation
Visite de la nouvelle exposition "Voyage en Haute Mer", cocktail et animation
Shaping a toolbox for the Conservation of biodiversity in the High Seas
Organized with the Agence Française pour la Biodiversité and the Global Ocean biodiversity Initiative (GOBI)
Création d'une boîte à outils pour la Conservation de la biodiversité en Haute-Mer - Organisé avec l'Agence Française pour la Biodiversité et l'Initiative Mondiale pour la Biodiversité des Océans (GOBI)
---
Preparing for the negociations on Biodiversity Beyond National Juridictions
Organized with the Ministère de l'Europe et des Affaires étrangères
La préparation aux négociations relatives à la Biodiversité marine situées au-delà des juridictions nationales - Organisé avec le Ministère de l'Europe et des Affaires étrangères
---
Public Event on the Challenges of the High Seas (from 7pm to 9pm)
Soirée Grand Public sur les Défis de la Haute Mer (de 19h à 21h)
Guest speakers, panelists including:
Conférenciers invités, entre autres:
Navigator, Journalist
Navigatrice, Journaliste
---
President,
Global Ocean Forum
Présidente - Global Ocean Forum
---
Astronaut

Astronaute
---
Secretariat de la Mer, Prime Minister's Office
Government of France
Secrétariat de la Mer, Bureau du Premier Ministre - Gouvernement de France
---
International advisor to the President of Ifremer and member of the Legal and Technical Commision of the International Seabed Authority
Conseiller international du Président d'Ifremer et membre de la commission juridique et technique de l'Autorité Internationale des fonds marins
---
Coordinator of the Global Ocean Biodiversity Initiative (GOBI)
Coordinateur de l'Initiative Mondial pour la biodiversité des Océans (GOBI)
---
H.E. Ambassador Peter Thomson
UN Secretary-General Special Envoy for Ocean,
Government of Fidji

Envoyé Spécial pour les Océans auprès des Nations-Unies - Gouvernement des Fidji
---
H.E. Ambassador Serge Ségura
Government of France
Gouvernement de la France
---
Director General,
Tara Expeditions
Directeur Général de Tara Expéditions
---
Mr Frédéric Moncany de Saint-Aignan
President,
French Maritime Cluster
Président du Cluster Maritime Français