Cet événement est terminé.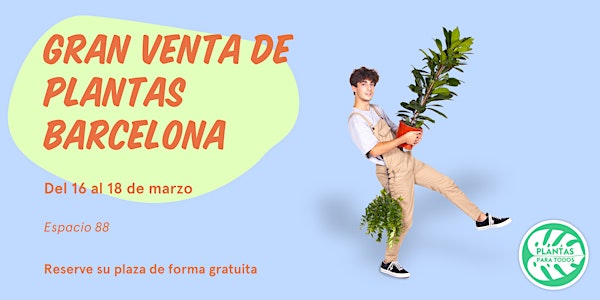 Gran Venta de Plantas - Barcelona
Pssst... ¿Quieres comprar plantas a precios pequeños?
Date et heure
jeu. 16 mars 2023 10:00 - sam. 18 mars 2023 18:00 CET
Lieu
Espacio 88 88 Carrer de Pamplona 08018 Barcelona Spain
À propos de cet évènement
English below 🇬🇧
GOOD NEWS ! Plants For All vuelve a Barcelona, a Espacio 88 con su Gran Venta de plantas LOCAS a precios mini 🤩
🌿 Para vuestra información, toda nuestra selección viene directamente del productor y llega por la mañana del primer día de venta. No tendremos reposición de plantas durante el fin de semana: ¡el primero que llega es el primero que se sirve!
Reserve su entrada aquí, ¡es gratis!
____________________
EN EL PROGRAMA
- Un máximo de plantas a precios pequeños,
- Una elección única en la ciudad (más de 150 variedades de plantas), Monstera, Pilea, Ficus, Calathea*..,
- Plantas de interior y exterior directamente traídos de los productores para una máxima frescura,
- Plantas grandes y raras a partir de 15 euros,
- Plantas clasificadas por categorías para ayudarle a elegir (Para principiantes, plantas de sombra, las inmortales...),
- Terrarios, macetas, jardineras, macramé y otros accesorios para un interior verde y decorativo sin arruinarse.
📢 Y como nos gusta sorprenderte, todos los últimos días de las rebajas te reservaremos una sorpresa con la que podrías caer. 🤫 🥰
____________________
INFO ÚTIL
📍 Espacio 88 - Carrer de Pamplona, 88, 08018 Barcelona
📅 Jueves 16 de marzo de 10 a 19 horas
📅 Viernes 17 de marzo de 10 a 19 horas
📅 Sábado 18 de marzo de 10 a 18 horas
💳 Sólo se puede pagar con tarjeta de crédito.
🐶 Evento pet friendly
♿️ Accesible para personas con movilidad reducida.
Prepárate para la jungla ✌️
* Sujeto a la disponibilidad de los productores.
***
English 🇬🇧
GOOD NEWS! Plantes Pour Tous returns to Bruxelles with a Great Sale of CRAZY plants 🤩
🌿 As a reminder, all our selection is coming directly from the producer and arrives in the morning of the 1st day of our sale. We do not restock during the weekend - first come, first served!
Book your ticket here, it's free!
____________________
THE PROGRAMME:
- A maximum of plants at a minimum price (from 2€),
- A unique choice in town (over 150 varieties of plants), Monstera, Pilea, Ficus, Calathea*...,
- Indoor plants directly from producers for maximum freshness,
- Large and rare plants from 15€ and up,
- Plants sorted by category to help you make your choice (For beginners, shade plants, the unstoppable,...)
- Accessories in spades, pots, planters... to spice up your plants!
***
PRACTICAL INFOS:
📍 Espacio 88 - Carrer de Pamplona, 88, 08018 Barcelona
📅 Thursday, 16th march- 10am to 7pm
📅 Friday, 17th march - 10am to 7pm
📅 Saturday, 18th march - 10am to 6pm
💳 CB payment only.
♿️ Accessible to people with reduced mobility.
🐶 Pet Friendly
Get ready for the jungle ✌️
* Subject to availability from the producers.
The Green Team🌱
À propos de l'organisateur