Cet événement est terminé.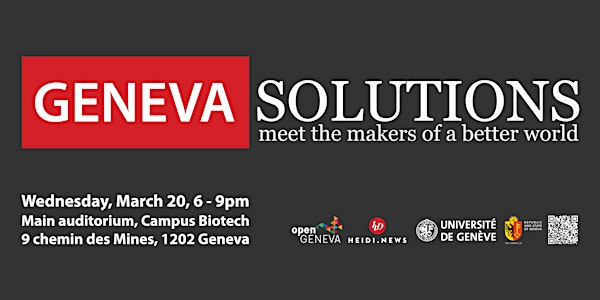 Geneva Solutions Conference
Geneva Solutions : Meet the Makers of a Better World
Où et quand
Lieu
Campus Biotech 9 Chemin des Mines 1202 Genève Switzerland
À propos de cet évènement
[English] International Geneva is known for its high level international discussions, led by the United Nations. Yet, it is also an integrated hub for the invention and the deployment of technologies, services, policies, and advocacy for the relief and the betterment of the world. Behind the scenes, people team up to tackle great global challenges. We want them to tell us how and why they work hard to achieve these global goals.
More infos : https://opengeneva.org/conferences/geneva-solutions/
Doors open : 5:30pm
[Français] La Genève Internationale est connue pour ses négociations multi-latérales de haut niveau, souvent orchestrées par les Nations Unies. Mais Genève est aussi un hub intégré pour l'invention et le déploiement de technologies, services, régulations et plaidoyers pour l'assistance et l'amélioration du monde. En coulisses, des personnes travaillent en équipe pour surmonter des défis globaux. Geneva Solutions permet de mieux comprendre comment et pourquoi ces personnes s'engagent pour le bien du monde. Note : les conférences Open Geneva sont organisées principalement en anglais.
Plus d'information : https://opengeneva.org/conferences/geneva-solutions/
Ouverture des portes : 17h30